Intestinal tuft cells regulate the ATM mediated DNA Damage response via Dclk1 dependent mechanism for crypt restitution following radiation injury
ABSTRACT
---
Crypt epithelial survival and regeneration after injury require highly coordinated complex interplay between resident stem cells and diverse cell types. The function of Dclk1 expressing tuft cells regulating intestinal epithelial DNA damage response for cell survival/self-renewal after radiation-induced injury is unclear. Intestinal epithelial cells (IECs) were isolated and purified and utilized for experimental analysis. We found that small intestinal crypts of VillinCre;Dclk1f/f mice were hypoplastic and more apoptotic 24 h post-total body irradiation, a time when stem cell survival is p53-independent. Injury-induced ATM mediated DNA damage response, pro-survival genes, stem cell markers, and self-renewal ability for survival and restitution were reduced in the isolated intestinal epithelial cells. An even greater reduction in these signaling pathways was observed 3.5 days post-TBI, when peak crypt regeneration occurs. We found that interaction with Dclk1 is critical for ATM and COX2 activation in response to injury. We determined that Dclk1 expressing tuft cells regulate the whole intestinal epithelial cells following injury through paracrine mechanism. These findings suggest that intestinal tuft cells play an important role in regulating the ATM mediated DNA damage response, for epithelial cell survival/self-renewal via a Dclk1 dependent mechanism, and these processes are indispensable for restitution and function after severe radiation-induced injury.
No MeSH data available.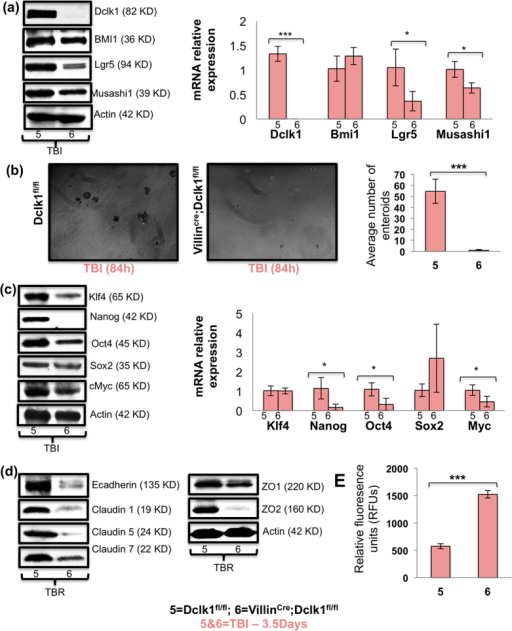 © Copyright Policy - open-access
License
getmorefigures.php?uid=PMC5120335&req=5
Mentions: The expression of ISC markers was greatly reduced in the intestines of VillinCre;Dclk1f/f mice compared with Dclk1f/f mice, even 84 h post-TBI (Fig. 6a). IEC self-renewal was reduced to undetermined levels in VillinCre;Dclk1f/f mice compared with Dclk1f/f mice, as shown by clonogenic assay (Fig. 6b). Expression of intestinal pluripotency factors was greatly downregulated in VillinCre;Dclk1f/f mice 84 h post-TBI (Fig. 6c). Furthermore, intestinal epithelial survival signaling pathways, including the Akt/mTOR, Notch, beta-catenin, RelA signaling pathways, and Hes1, Tcf4, CXCL1, CyclindD1, COX2 expression were dramatically reduced in the IECs of VillinCre;Dclk1f/f mice 84 h post-TBI (Suppl. Fig. 7). Compared with Dclk1f/f mice, there was a substantial increase (p < 0.0001) in intestinal permeability (FITC-assay), representing the loss of barrier function, in VillinCre;Dclk1f/f mice 84 h post-TBI (Fig. 6d). Levels of tight junction proteins claudin-1, 5, 7, and ZO-2 were ~5–8 fold lower in IECs from VillinCre;Dclk1f/f mice than in Dclk1f/f mice (Fig. 6e). We also observed massive deficiencies of gamma-H2AX and phospho-ATM and its downstream signaling molecules in IECs from VillinCre;Dclk1f/f mice (Fig. 7a). CO-IP data at 84 h post-TBI revealed that Dclk1-ATM interaction was still lower than that found in Dclk1f/f mice at baseline (Fig. 7b). Results from a DNA fragmentation assay (Fig. 7c) revealed that Dclk1 is critical for radioresistance, maintaining DNA integrity even 84 h post-TBI. From the results of CO-IP conducted 24 h and 84 h post-TBI, we theorize that Dclk1 may have a direct role in the activation of ATM and its downstream targets for cell survival, and tuft cell survival in particular, for longevity and radioprotection after radiation injury.