Multiple crosstalk between TOR and the cell integrity MAPK signaling pathway in fission yeast
ABSTRACT
---
In eukaryotic cells, the highly conserved Target of Rapamycin (TOR) and the Mitogen Activated Protein Kinase (MAPK) signaling pathways elicit adaptive responses to extra- and intracellular conditions by regulating essential cellular functions. However, the nature of the functional relationships between both pathways is not fully understood. In the fission yeast Schizosaccharomyces pombe the cell integrity MAPK pathway (CIP) regulates morphogenesis, cell wall structure and ionic homeostasis. We show that the Rab GTPase Ryh1, a TORC2 complex activator, cross-activates the CIP and its core member, the MAPK Pmk1, by two distinct mechanisms. The first one involves TORC2 and its downstream effector, Akt ortholog Gad8, which together with TORC1 target Psk1 increase protein levels of the PKC ortholog Pck2 during cell wall stress or glucose starvation. Also, Ryh1 activates Pmk1 in a TORC2-independent fashion by prompting plasma membrane trafficking and stabilization of upstream activators of the MAPK cascade, including PDK ortholog Ksg1 or Rho1 GEF Rgf1. Besides, stress-activated Pmk1 cross-inhibits Ryh1 signaling by decreasing the GTPase activation cycle, and this ensures cell growth during alterations in phosphoinositide metabolism. Our results reveal a highly intricate cross-regulatory relationship between both pathways that warrants adequate cell adaptation and survival in response to environmental changes.
No MeSH data available.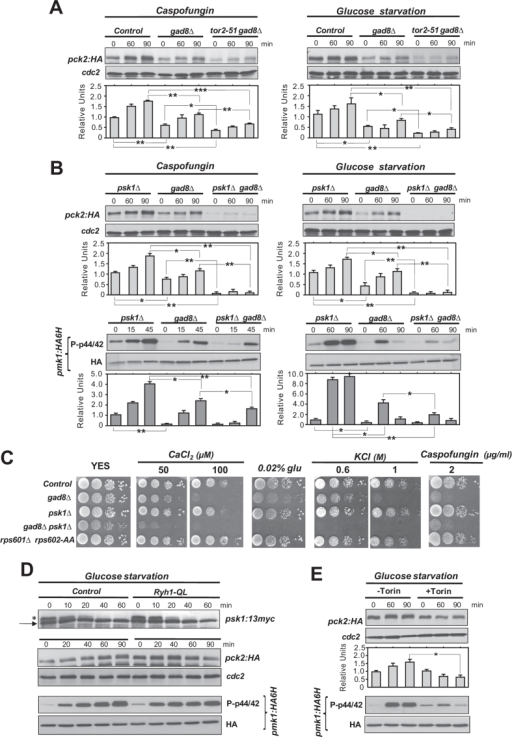 © Copyright Policy - open-access
License
getmorefigures.php?uid=PMC5120329&req=5
Mentions: A mutant strain expressing the hypomorphic thermo-sensitive allele tor2-5114 does not show defective Pck2 levels during vegetative growth, cell wall stress or glucose deprivation (Suppl. Figure S1). However, introduction of this mutation in a gad8∆ background (tor2-51 gad8∆ cells) elicited a further and significant decrease in Pck2 levels under each stress condition (Fig. 2A). Deletion of the S6 kinase ortholog Psk1, which becomes phosphorylated by TORC1 in the presence of nitrogen and carbon sources16, did not modify Pck2 levels during the above conditions (Fig. 2B). Strikingly, the defective Pck2 levels in growing or stressed gad8∆ cells were strongly reduced in a gad8∆ psk1∆ double mutant, and this prompted an additive drop in Pmk1 activation, particularly in the absence of glucose (Fig. 2B). When compared to control cells, gad8∆ cells displayed a clear growth defect in response to elevated calcium concentrations (CaCl2), osmotic saline stress (KCl), cell wall damage (Caspofungin), or upon limited glucose concentrations (Fig. 2C). On the contrary, psk1∆ cells did not show stress sensitivity (Fig. 2C). Remarkably, although slow growing, the stress sensitivity of the gad8∆ psk1∆ double mutant was in many instances aggravated in comparison to that of gad8∆ cells (Fig. 2C). Taken together, these results support that Psk1 cooperates with Tor1-Gad8 (TORC2) in the control of adaptation to stress, Pck2 levels, and Pmk1 activation, although its role appears to be less prominent than that of the Tor1-Gad8 branch.