In Silico Exploration for Novel Type-I Inhibitors of Tie-2/TEK: The Performance of Different Selection Strategy in Selecting Virtual Screening Candidates
ABSTRACT
---
The receptor tyrosine kinase Tie-2 is involved in vessel remodeling and maturation, and has been regarded as a potential target for the treatment of various solid tumors. The absence of novel, potent and selective inhibitors severely hampers the understanding of the therapeutic potential of Tie-2. In the present work, we describe the discovery of novel type-I inhibitors of Tie-2 by structure-based virtual screening. Preliminary SAR was also performed based on one active compound, and several novel inhibitors with low micro-molar affinity were discovered. To directly compare the efficiency between different filtering strategies in selecting VS candidates, two methods were separately carried out to screen the same chemical library, and the selected VS candidates were then experimentally assessed by in vitro enzymatic assays. The results demonstrate that the hit rate is improved when stricter drug-likeness criteria and less number of molecules for clustering analysis are used, and meanwhile, the molecular diversity of the compounds still maintains. As a case study of TIE-2, the information presented in this work underscores the importance of selecting an appropriate selection strategy in VS campaign, and the novel inhibitors identified and the detailed binding modes of action provide a starting point for further hit-to-lead optimization process.
No MeSH data available.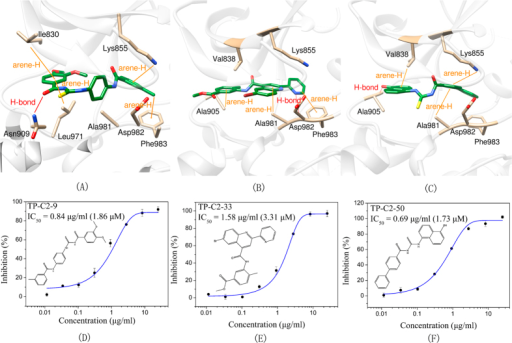 © Copyright Policy - open-access
License
getmorefigures.php?uid=PMC5120310&req=5
Mentions: The IC50 values of three most potent compounds from each strategy (TP-C1-17, 47, 52 and TP-C2-9, 33, 50) are 4.45 μM, 5.15 μM, 15.3 μM, 1.86 μM, 3.31 μM, and 1.73 μM, respectively (Figs 5 and 6). The novelty of these inhibitors was also assessed by evaluating the structural similarity to the reported type-I inhibitors of Tie-2 that were retrieved from the BindingDB database. The molecular similarity was computed based on the pairwise Tanimoto similarity using FCFP_6 fingerprints41. According to our calculations, the maximum similarities of compounds TP-C1-17, 47, 52 and TP-C2-9, 33, 50 are 0.125, 0.141, 0.147, 0.268, 0.204, and 0.252, respectively, where all the obtained known inhibitors were compared to each compound and the similarity value of the most similar inhibitor was kept. All the 6 compounds show low structural similarity to the reported inhibitors, indicating that the candidate compounds discovered are novel Tie-2 inhibitors.