Handspinning Enabled Highly Concentrated Carbon Nanotubes with Controlled Orientation in Nanofibers
ABSTRACT
---
The novel method, handspinning (HS), was invented by mimicking commonly observed methods in our daily lives. The use of HS allows us to fabricate carbon nanotube-reinforced nanofibers (CNT-reinforced nanofibers) by addressing three significant challenges: (i) the difficulty of forming nanofibers at high concentrations of CNTs, (ii) aggregation of the CNTs, and (iii) control of the orientation of the CNTs. The handspun nanofibers showed better physical properties than fibers fabricated by conventional methods, such as electrospinning. Handspun nanofibers retain a larger amount of CNTs than electrospun nanofibers, and the CNTs are easily aligned uniaxially. We attributed these improvements provided by the HS process to simple mechanical stretching force, which allows for orienting the nanofillers along with the force direction without agglomeration, leading to increased contact area between the CNTs and the polymer matrix, thereby providing enhanced interactions. HS is a simple and straightforward method as it does not require an electric field, and, hence, any kinds of polymers and solvents can be applicable. Furthermore, it is feasible to retain a large amount of various nanofillers in the fibers to enhance their physical and chemical properties. Therefore, HS provides an effective pathway to create new types of reinforced nanofibers with outstanding properties.
No MeSH data available.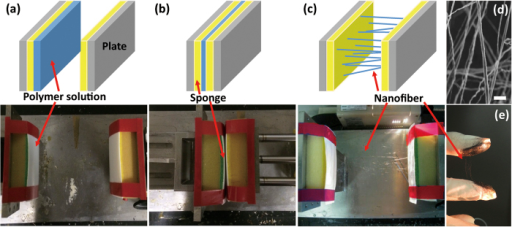 © Copyright Policy - open-access
License
getmorefigures.php?uid=PMC5120309&req=5
Mentions: Recently, we reported a simple and innovative method for fabricating nanofibers, called as handspinning (HS). This method shows promise for overcoming the challenges in ES11. HS method was inspired by the process of making cheese or noodles by hand-pulling, or making long and thin fiber-like structure from highly viscous liquid glue using two fingers, grabbing and subsequently pulling out the viscous material with thumb and index finger. Thus, in the HS method, fibers are fabricated completely different mechanism used in ES. In the HS process, a stretching force is used instead of an electrical force, which results in well-oriented polymer fibers along a single axis, whereas ES process typically produces fibers with random orientations. Also, the process relies on simple mechanical force, making high electrical voltage unnecessary, avoiding high cost and excessive use of energy in production. Figure 1e shows that the HS process even worked with the simplest system we devised, i.e., using only two fingers to make nanofibers. More importantly, HS offers a number of options for polymers and solvents because, unlike in the ES process, their electrical properties are not relevant at all. In our previous report11, we found that the diameter and surface morphologies of handspun fiber depend on solvent systems and processing conditions to control simple mechanical force. Also, a significant difference in polymer chain conformation between the handspun and electrospun nanofibers was observed, and it was attributed to mechanical stretching force. All related observations strongly indicated that HS provides a versatile and straightforward route to obtain well-defined nanofibers.