Discerning the Location and Nature of Coke Deposition from Surface to Bulk of Spent Zeolite Catalysts
ABSTRACT
---
The formation of carbonaceous deposits (coke) in zeolite pores during catalysis leads to temporary deactivation of catalyst, necessitating regeneration steps, affecting throughput, and resulting in partial permanent loss of catalytic efficiency. Yet, even to date, the coke molecule distribution is quite challenging to study with high spatial resolution from surface to bulk of the catalyst particles at a single particle level. To address this challenge we investigated the coke molecules in HZSM-5 catalyst after ethanol conversion treatment by a combination of C K-edge X-ray absorption spectroscopy (XAS), 13C Cross polarization-magic angle spinning nuclear magnetic resonance (CP-MAS NMR) spectroscopy, and atom probe tomography (APT). XAS and NMR highlighted the aromatic character of coke molecules. APT permitted the imaging of the spatial distribution of hydrocarbon molecules located within the pores of spent HZSM-5 catalyst from surface to bulk at a single particle level. 27Al NMR results and APT results indicated association of coke molecules with Al enriched regions within the spent HZSM-5 catalyst particles. The experimental results were additionally validated by a level-set–based APT field evaporation model. These results provide a new approach to investigate catalytic deactivation due to hydrocarbon coking or poisoning of zeolites at an unprecedented spatial resolution.
No MeSH data available.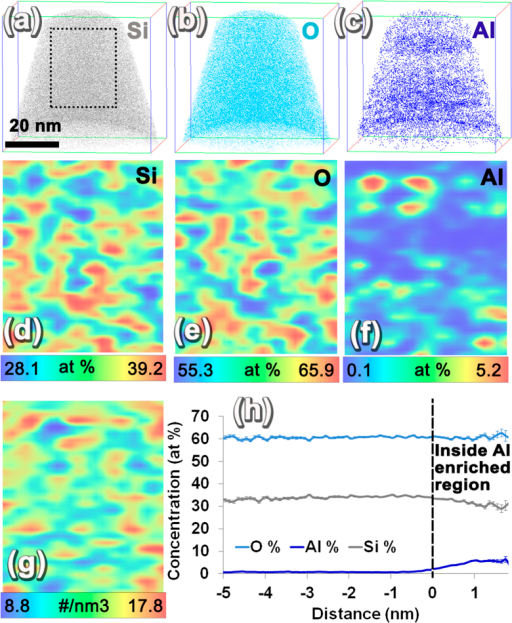 © Copyright Policy - open-access
License
getmorefigures.php?uid=PMC5120296&req=5
Mentions: The 3D ion distribution map of Si (grey), O (light blue), and Al (dark blue) from fresh HZSM-5 is given in Fig. 4(a-c). The APT reconstructed volume corresponds to 58.58 nm × 57.73 nm × 84.88 nm close to the top surface of the HZSM-5 particle. From these images clear evidence of rather non-uniform distribution of Al can be seen (Fig. 4(c)). To better understand the non-uniformity of element distribution 2D composition maps were plotted using a 1 nm × 25 nm × 30 nm volume slice perpendicular to the APT result (at the location shown by the dotted rectangle in Fig. 4(a)). The 2D composition map of Si, O, and Al are given in Fig. 4(d–f) in which dark red corresponds to the higher concentration of the elements and dark blue represents the lower range of concentration. The color scale bar showing the concentration variation for each element in atomic percent is given below each image. For these 2D concentration maps, both elemental and decomposed contributions of molecular ions were used. From the 2D maps, it is very clear that a somewhat periodic non-uniformity of Si and O exists throughout the HZSM-5, and Al is non-uniformly distributed without this periodicity forming what appears to be isolated sparsely distributed regions of Al enrichment in the reconstruction. The variation in major elements, i.e., Si and O distribution, can be influenced by a number of factors, the first of which is the porosity in the HZSM-5, which is on the order of 5.4–5.6 angstroms1. However, the capability of visualizing the porosity in zeolites using APT is still not proven conclusively, because of the occurrence of local magnification, which can lead to trajectory crossing during the evaporation of the needle-shaped specimen of a material that has embedded pores3940. Nonetheless, past efforts have attempted to locate voids in irradiated structural materials using iso-density surfaces in APT data414243. In line with such efforts, a 2D map of all ion density was plotted in which a variation in ion density is also clearly visible where the ion density oscillates between higher and lower values rather periodically (Fig. 4(g)). This may be an indication of the periodic pores in HZSM-5, and the validity of this attribution is tested by computational simulation of APT evaporation and reconstruction of a porous material in the latter part of this manuscript. The Al distribution in the 2D map (Fig. 4(f)), however, looks distinctly different than the Si and O 2D maps (Fig. 4(d–e)). The compositional partitioning between the Al-rich regions and matrix was measured by calculating a proximity histogram44 composition profile across all of the regions that had greater than 3 at% Al within the reconstruction (Fig. 4(h)). In accordance with the proximity histogram, inside the Al-rich regions the concentration of Al reached as high as 5.42 ± 0.91 at% Al.