A Meta-analysis of MBL2 Polymorphisms and Tuberculosis Risk
ABSTRACT
---
MBL2 gene encodes mannose-binding lectin, is a member of innate immune system. Earlier studies revealed that MBL2 gene variants, rs1800451, rs1800450, rs5030737, rs7096206, rs11003125 and rs7095891 are associated with impaired serum level and susceptibility to TB, but their results are inconsistent. A meta-analysis was performed by including 22 studies (7095 TB-patients and 7662 controls) and data were analyzed with respect to associations between alleles, genotypes and minor allele carriers to evaluate the potential association between MBL2 polymorphisms and TB risk. Statistically significant results were found only for the homozygous variant genotype (CC vs. AA: p = 0.045; OR = 0.834, 95% CI = 0.699 to 0.996) of rs1800451 and showed reduced risk of TB in overall population. However, other genetic models of rs1800450, rs5030737, rs7096206, rs11003125, rs7095891 and combined rs1800450, rs1800451, rs5030737 polymorphisms of MBL2 gene did not reveal any association with TB risk. Stratified analysis by ethnicity showed decreased risk of TB in African population for rs1800450 and rs1800451. Whereas, no association was observed between other MBL2 polymorphisms and TB risk in all the evaluated ethnic populations. In conclusion, MBL2 rs1800450 and rs1800451 polymorphisms play a protective role in TB infection and reinforce their critical significance as a potential genetic marker for TB resistance.
No MeSH data available.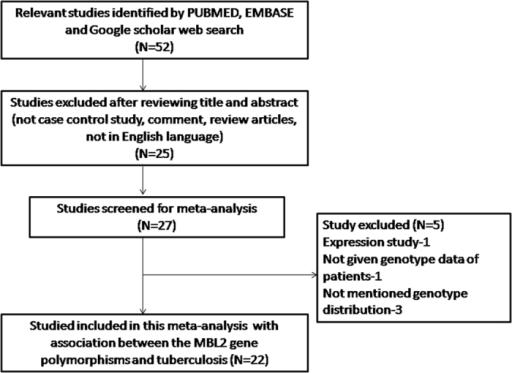 © Copyright Policy - open-access
License
getmorefigures.php?uid=PMC5120291&req=5
Mentions: The preliminary search of PubMed (Medline), EMBASE and Google Scholar web-databases resulted 52 articles using the selected key words as mentioned in the methods section, and after detailed evaluation of the titles and abstracts, and after eliminating the duplicates, 27 articles dealing with evaluation of the association of MBL2 polymorphisms and TB risk were screened. After careful reading of the full-text of all the screened articles, 5 studies were disqualified (1 study was omitted as it reported expression analysis; 1 study was excluded due to lack of patients' genotype data; and 3 studies were excluded because of unavailability of genotype distribution). During the study selection, all the retrieved articles were reviewed cautiously, and publications either dealing with MBL2 variants to predict survival in TB patients or MBL2 polymorphisms as indicator for response against therapy were disqualified. Likewise, studies pertaining to protein expression or MBL2 mRNA levels or relevant review articles were also omitted from this meta-analysis. In this meta-analysis, only case-control or cohort design studies mentioning the frequency of all the three genotypes were included. In addition to the online database search, the references given in the screened articles were also reviewed for other potential studies. Lastly, after cautious screening and following the pre-set inclusion and exclusion criteria for the selection of the studies, a total of 22 research publications11121314151617181920212223242526272829303132, showing case-control studies comprising of a total of 7095 confirmed TB patients and 7662 control subjects were included in this pooled analysis (Fig. 1 PRISMA Flow-diagram). The major characteristics of the selected studies were abstracted and have been given in Table 1. Relevant statistical data of distribution of genotypes, HWE p-values in the controls, and susceptibility towards TB have been presented in Tables 2 and 3. In order to improve the overall quality of the meta-analysis, all the 22 studies included in this meta-analysis were subjected for quality assessment following the Newcastle-Ottawa Scale (NOS) and almost all the studies (95%) scored 5 stars or more, indicating a modest to good quality (Table 4).