Fabrication of functional hollow microspheres constructed from MOF shells: Promising drug delivery systems with high loading capacity and targeted transport
ABSTRACT
---
An advanced multifunctional, hollow metal-organic framework (MOF) drug delivery system with a high drug loading level and targeted delivery was designed and fabricated for the first time and applied to inhibit tumour cell growth. This hollow MOF targeting drug delivery system was prepared via a simple post-synthetic surface modification procedure, starting from hollow ZIF-8 successfully obtained for the first time via a mild phase transformation under solvothermal conditions. As a result, the hollow ZIF-8 exhibits a higher loading capacity for the model anticancer drug 5-fluorouracil (5-FU). Subsequently, 5-FU-loaded ZIF-8 was encapsulated into polymer layers (FA-CHI-5-FAM) with three components: a chitosan (CHI) backbone, the imaging agent 5-carboxyfluorescein (5-FAM), and the targeting reagent folic acid (FA). Thus, an advanced drug delivery system, ZIF-8/5-FU@FA-CHI-5-FAM, was fabricated. A cell imaging assay demonstrated that ZIF-8/5-FU@FA-CHI-5-FAM could target and be taken up by MGC-803 cells. Furthermore, the as-prepared ZIF-8/5-FU@FA-CHI-5-FAM exhibited stronger cell growth inhibitory effects on MGC-803 cells because of the release of 5-FU, as confirmed by a cell viability assay. In addition, a drug release experiment in vitro indicated that ZIF-8/5-FU@FA-CHI-5-FAM exhibited high loading capacity (51%) and a sustained drug release behaviour. Therefore, ZIF-8/5-FU@FA-CHI-5-FAM could provide targeted drug transportation, imaging tracking and localized sustained release.
No MeSH data available.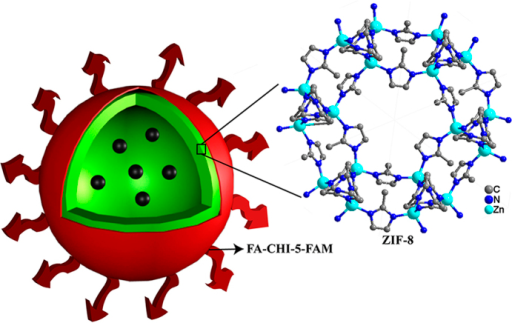 © Copyright Policy - open-access
License
getmorefigures.php?uid=PMC5120282&req=5
Mentions: Moreover, fluorescent probes are a powerful tool for the real-time visualization and tracking of drugs in living cells. The peripheral carboxyl on 5-carboxylfluorescein (5-FAM) can be easily immobilized onto the CHI, meaning that 5-FAM has the potential to be used as a fluorescent probe for monitoring the drug delivery process30. Thus, in this paper, a multifunctional drug delivery system for specific targeted drug delivery and fluorescence tracking imaging is reported; our objective is to minimize side effects and improve the efficiency of cancer treatment (Fig. 1). Herein, we demonstrate the fabrication of hollow MOF microparticles via a one-step solvothermal reaction of Zn(NO3)2 and 2-methylimidazole without extra template materials. FA-CHI-5-FAM is prepared by bonding the fluorescent molecule 5-FAM and targeting molecule FA to CHI through a reaction between the carboxyl groups of FA, 5-FAM and the amino groups of the CHI chain. 5-Fluorouracil (5-FU), an antimetabolite compound that can prevent tumour-cell pyrimidine nucleotide synthesis, is used as a model drug. Subsequently, hollow ZIF-8-loaded with 5-FU is coated with FA-CHI-5-FAM, resulting in the formation of ZIF-8/5-FU@FA-CHI-5-FAM. We observe that ZIF-8/5-FU@FA-CHI-5-FAM has a high drug loading level (51%). Although the drug loading capacity of ZIF-8/5-FU@FA-CHI-5-FAM does not exceed the carrier-free drug nanoparticles313233, this system is superior to most drug carriers. Meanwhile they can enhance an anticancer drug's therapeutic effects by targeted drug delivery and fluorescence imaging, making them more effective than carrier-free drug nanoparticles. In addition, compared with most of the existing pure organic and inorganic carrier materials, the ZIF-8/5-FU@FA-CHI-5-FAM is not stable in acidic condition, providing excellent biodegradability and low cytotoxicity as drug delivery hosts. All in all, this system can be used to provide a sustained drug release while allowing the targeting of cancer cells and cellular imaging. Furthermore, such systems, which can function in the targeting, imaging, and therapy domains, have the potential to overcome the conventional limitations of cancer diagnosis and therapy.