Changes of bivalent chromatin coincide with increased expression of developmental genes in cancer
ABSTRACT
---
Bivalent (poised or paused) chromatin comprises activating and repressing histone modifications at the same location. This combination of epigenetic marks at promoter or enhancer regions keeps genes expressed at low levels but poised for rapid activation. Typically, DNA at bivalent promoters is only lowly methylated in normal cells, but frequently shows elevated methylation levels in cancer samples. Here, we developed a universal classifier built from chromatin data that can identify cancer samples solely from hypermethylation of bivalent chromatin. Tested on over 7,000 DNA methylation data sets from several cancer types, it reaches an AUC of 0.92. Although higher levels of DNA methylation are often associated with transcriptional silencing, counter-intuitive positive statistical dependencies between DNA methylation and expression levels have been recently reported for two cancer types. Here, we re-analyze combined expression and DNA methylation data sets, comprising over 5,000 samples, and demonstrate that the conjunction of hypermethylation of bivalent chromatin and up-regulation of the corresponding genes is a general phenomenon in cancer. This up-regulation affects many developmental genes and transcription factors, including dozens of homeobox genes and other genes implicated in cancer. Thus, we reason that the disturbance of bivalent chromatin may be intimately linked to tumorigenesis.
No MeSH data available.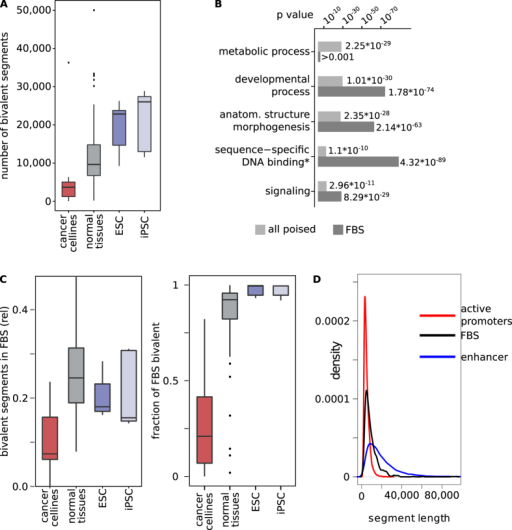 © Copyright Policy - open-access
License
getmorefigures.php?uid=PMC5120258&req=5
Mentions: Chromatin state segmentations are maps identifying genomic intervals with distinct functional chromatin states, defined by characteristic combinations of histone modifications20. We analyzed 127 publicly available human chromatin state segmentations generated by NIH Roadmap (Supplementary Table S1) and 7 additional cancer cell line chromatin state segmentations (BLUEPRINT consortium21). We generated the chromatin state segmentations for the BLUEPRINT cell lines using the same method used by Roadmap. We confirmed that bivalent segments, i.e. bivalent promoters and bivalent enhancers, are present in all analyzed tissues. However, the total numbers differed strongly (Fig. 1A). As expected, embryonic stem cells (ESC) and induced pluripotent stem cells (iPSC) contained about twice as many bivalent segments on average compared to other tissues. Cancer cell lines, on the other hand, had the smallest number of bivalent segments. Differences of the same magnitude could not be observed for other chromatin state segments (see Supplementary Fig. S1A). In part, the usage of more heterogeneous tissue samples (as opposed to the homogeneous cancer cell lines) might explain this phenomenon. However, 60 of 109 of the differentiated tissue chromatin state segmentations were created using either cultured cells, cell lines or sorted blood cells that do not show the heterogeneity of tissue samples. Restricting the analysis to the 122 non-cancer chromatin state segmentations, and intersecting them with the Gencode v19 gene annotation22, we confirmed that genes associated with bivalent chromatin, i.e. genes with bivalent chromatin in their promoter regions or gene bodies, have a highly significant enrichment of the gene ontology (GO)-terms related to transcriptional activity and developmental processes, but also, e.g., to metabolic processes (see Fig. 1B, Supplementary Table S2).