The stable microbiome of inter and sub-tidal anemone species under increasing p CO 2
ABSTRACT
---
Increasing levels of pCO2 within the oceans will select for resistant organisms such as anemones, which may thrive under ocean acidification conditions. However, increasing pCO2 may alter the bacterial community of marine organisms, significantly affecting the health status of the host. A pH gradient associated with a natural volcanic vent system within Levante Bay, Vulcano Island, Italy, was used to test the effects of ocean acidification on the bacterial community of two anemone species in situ, Anemonia viridis and Actinia equina using 16 S rDNA pyrosequencing. Results showed the bacterial community of the two anemone species differed significantly from each other primarily because of differences in the Gammaproteobacteria and Epsilonproteobacteria abundances. The bacterial communities did not differ within species among sites with decreasing pH except for A. viridis at the vent site (pH = 6.05). In addition to low pH, the vent site contains trace metals and sulfide that may have influenced the bacteria community of A. viridis. The stability of the bacterial community from pH 8.1 to pH 7.4, coupled with previous experiments showing the lack of, or beneficial changes within anemones living under low pH conditions indicates that A. viridis and A. equina will be winners under future ocean acidification scenarios.
No MeSH data available.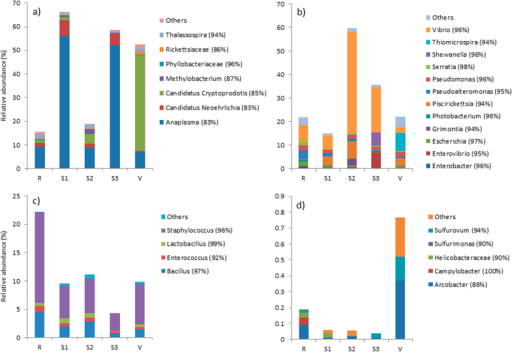 © Copyright Policy - open-access
License
getmorefigures.php?uid=PMC5120257&req=5
Mentions: There was a significant difference in bacterial communities of A. viridis among sites (F(4,10) = 1.47; R2: 0.370, p = 0.046; Fig. 5a) when this anemone species was analyzed independently. Pairwise PERMANOVAs, however, showed no significant differences between sites tested likely because of high levels of variation within sites (Supplementary Table 4). The heatmap created of the most dominant genera visually displays the high levels of variation among the samples, little convergence within sites, and the dominance by a few bacterial genera, mostly within the Alphaprotebacteria class (Supplementary Figure 2). SIMPER analysis of the Bray Curtis dissimilarity index (Table 1) showed that the most dissimilar site was the vent site compared with all other sites sampled and Site 3 compared with the reference site. The NMDS ordination plot of the A. viridis data illustrates the separation of the vent site compared with all other sites (Fig. 5a). The SIMPER analysis also showed that differences between the vent site and all other sites were primarily driven by five OTUs: 1) an OTU with 85% similarity to Candidatus Cryptoprodotis (Fig. 6a), 2) an OTU with 83% similarity to the genus Anaplasma (Fig. 6a), 3) Spiroplasma spp (homology identified as 83%; data not shown), 4) Vibrio (homology identified as 92%; Fig. 6b), and 5) Thiomicrospira (homology identified as 94%; Fig. 6b). Comparisons of these genera among sites using nonparametric Kruskal-Wallis tests showed significant differences for the OTU similar to Candidatus Cryptoprodotis (X2(4) = 9.43, p = 0.049; Supplementary Figure 3), for Spiroplasma (X2 (4) = 12.897, p = 0.012; Supplementary Figure 3), and also for Thiomicrospira (X2 (4) = 13.796, p = 0.008; Supplementary Figure 3). The posthoc Dunn's test with a Bonferroni correction showed the OTU similar to Candidatus Cryptoprodotis was significantly higher at the vent site compared with site 3 (Z = −2.647, p = 0.041; Fig. 6a; Supplementary Figure 3). However, there were no differences detected in Spiroplasma spp. among sites using this conservative posthoc test (Supplementary Figure 3). Thiomicrospira was significantly more prevalent at the vent site compared with all other sites (Z = −2.936, p = 0.017; Fig. 6b; Supplementary Figure 3).