The stable microbiome of inter and sub-tidal anemone species under increasing p CO 2
ABSTRACT
---
Increasing levels of pCO2 within the oceans will select for resistant organisms such as anemones, which may thrive under ocean acidification conditions. However, increasing pCO2 may alter the bacterial community of marine organisms, significantly affecting the health status of the host. A pH gradient associated with a natural volcanic vent system within Levante Bay, Vulcano Island, Italy, was used to test the effects of ocean acidification on the bacterial community of two anemone species in situ, Anemonia viridis and Actinia equina using 16 S rDNA pyrosequencing. Results showed the bacterial community of the two anemone species differed significantly from each other primarily because of differences in the Gammaproteobacteria and Epsilonproteobacteria abundances. The bacterial communities did not differ within species among sites with decreasing pH except for A. viridis at the vent site (pH = 6.05). In addition to low pH, the vent site contains trace metals and sulfide that may have influenced the bacteria community of A. viridis. The stability of the bacterial community from pH 8.1 to pH 7.4, coupled with previous experiments showing the lack of, or beneficial changes within anemones living under low pH conditions indicates that A. viridis and A. equina will be winners under future ocean acidification scenarios.
No MeSH data available.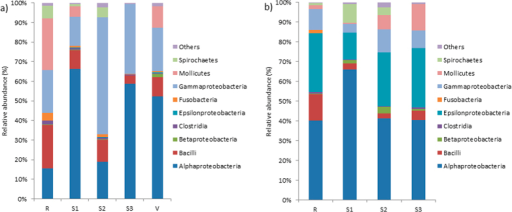 © Copyright Policy - open-access
License
getmorefigures.php?uid=PMC5120257&req=5
Mentions: The bacterial community of A. viridis significantly differed from the bacterial community of A. equina (F(1,25) = 5.798, R2: 0.188, p < 0.001). The NMDS ordination plot indicates little to no overlap in the relative abundance of bacteria from these two anemone species (Fig. 3). Comparisons of the bacterial class composition showed that there were significantly more Gammaproteobacteria (X2(1) = 9.152, p = 0.003) and significantly less Epsilonproteobacteria (X2(1) = 17.626, p < 0.001) within A. viridis compared with A. equina. Overall, A. viridis had a relative bacterial abundance of 27.69% (±6.4% SE) Gammaproteobacteria, whereas A. equina contained only 5.26% (±1.18%) Gammaproteobacteria (Fig. 4). A. viridis had on average only 0.17% (±0.07%) Epsilonproteobacteria, whereas A. equina had on average 19.13% (±6.77%) Epsilonproteobacteria (Fig. 4). Importantly, a significant difference remained between species even when the vent site data of A. viridis was removed from the comparison (F(1,22) = 5.848, R2: 0.210, p < 0.001). The factorial PERMANOVA also showed that when using both anemone species data there were no differences detected among sites, nor was there an interaction effect between sites and anemone species (sites: F(4,18) = 1.359, R2 = 0.168, p = 0.065; species x site: F(3,18) = 0.964, R2 = 0.089, p = 0.523).