The stable microbiome of inter and sub-tidal anemone species under increasing p CO 2
ABSTRACT
---
Increasing levels of pCO2 within the oceans will select for resistant organisms such as anemones, which may thrive under ocean acidification conditions. However, increasing pCO2 may alter the bacterial community of marine organisms, significantly affecting the health status of the host. A pH gradient associated with a natural volcanic vent system within Levante Bay, Vulcano Island, Italy, was used to test the effects of ocean acidification on the bacterial community of two anemone species in situ, Anemonia viridis and Actinia equina using 16 S rDNA pyrosequencing. Results showed the bacterial community of the two anemone species differed significantly from each other primarily because of differences in the Gammaproteobacteria and Epsilonproteobacteria abundances. The bacterial communities did not differ within species among sites with decreasing pH except for A. viridis at the vent site (pH = 6.05). In addition to low pH, the vent site contains trace metals and sulfide that may have influenced the bacteria community of A. viridis. The stability of the bacterial community from pH 8.1 to pH 7.4, coupled with previous experiments showing the lack of, or beneficial changes within anemones living under low pH conditions indicates that A. viridis and A. equina will be winners under future ocean acidification scenarios.
No MeSH data available.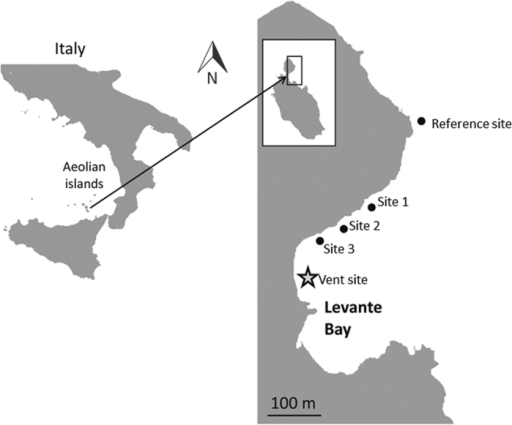 © Copyright Policy - open-access
License
getmorefigures.php?uid=PMC5120257&req=5
Mentions: Anemone samples were collected on June 21, 2013 between 10:00 and 11:00 hrs at sites along the sublittoral between 0.25 and 2 m depth in Levante Bay, North Vulcano Island (38° 25′N, 14° 57′E). Water temperature was 23 °C and did not vary within the sampled area. Samples were taken along the gradient from five sites: the reference site (500 m northeast of the vent; pH 8.15), site 1 (390 m from the vent, pH 8.03), site 2 (300 m from the vent, pH 7.86), site 3 (240 m from the vent, pH 7.44), and the vent site (15 m from the vent; pH 6.05; Fig. 1). Although extensive physical parameters were not collected simultaneously with the anemone samples, thorough geochemical surveys have been conducted previously that characterize Levante Bay spatially and temporally232425. These surveys indicate that sites 1, 2, 3 and the reference site differ little except for within their carbonate chemistry composition (see Boatta et al.23 and Johnson et al.24 for further details in the carbonate chemistry within this area). Temperature, salinity, total alkalinity, sulfur concentrations, nitrate, phosphate, sediment texture, and total nitrogen and total organic carbon content within the sediment do not significantly differ along the north shore of Levante Bay14232425. However, nitrite and silicate have shown significant differences between site 3 and the reference site location25. The vent site, in addition to having extremely low pH conditions (6.05), also contains elevated levels of trace elements, iron, and hydrogen sulfide compared with other sites further from the CO2 vent2326. Anemone samples for the present study included ~300 μg of tentacles from three randomly selected individuals of A. viridis at each site, and ~300 μg of both tentacles and the body column from three randomly selected A. equina. Samples were collected with sterile scissors by collectors wearing sterile nitrile gloves. Once the anemone sample was collected it was removed from the water and placed within a sterile 10 ml polystyrene tube. Samples of A. equina were not collected from the vent site because this species was absent within this location. All samples were stored in 10 ml of RNA Later (Qiagen, Inc), cryopreserved using liquid nitrogen within 1 hour of collection27, and transported back to Mote Marine Laboratory (Sarasota FL) in a liquid nitrogen dry shipper for subsequent analyses.