An elastic element in the protocadherin-15 tip link of the inner ear
ABSTRACT
---
Tip link filaments convey force and gate inner-ear hair-cell transduction channels to mediate perception of sound and head movements. Cadherin-23 and protocadherin-15 form tip links through a calcium-dependent interaction of their extracellular domains made of multiple extracellular cadherin (EC) repeats. These repeats are structurally similar, but not identical in sequence, often featuring linkers with conserved calcium-binding sites that confer mechanical strength to them. Here we present the X-ray crystal structures of human protocadherin-15 EC8–EC10 and mouse EC9–EC10, which show an EC8–9 canonical-like calcium-binding linker, and an EC9–10 calcium-free linker that alters the linear arrangement of EC repeats. Molecular dynamics simulations and small-angle X-ray scattering experiments support this non-linear conformation. Simulations also suggest that unbending of EC9–10 confers some elasticity to otherwise rigid tip links. The new structure provides a first view of protocadherin-15's non-canonical EC linkers and suggests how they may function in inner-ear mechanotransduction, with implications for other cadherins.
No MeSH data available.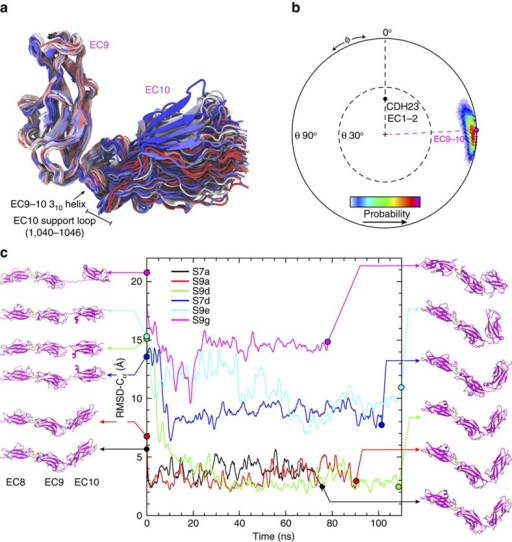 © Copyright Policy - open-access
License
getmorefigures.php?uid=PMC5120219&req=5
Mentions: Two equilibrium MD simulations lasting 400 ns (S1b) and 500 ns (S1c) showed a rather stable bent structure and only local deformation of the EC10 supporting loop (residues 1,040–1,046; Fig. 4a; Supplementary Figs 8a–d and 9a–d). The orientation of PCDH15 EC10 with respect to EC9, monitored throughout the simulations, indicates some flexibility (Fig. 4a,b; Supplementary Fig. 5b), which is reflected in large values for the overall root-mean-square deviation of Cα atoms (r.m.s.d.-Cα between 4 and 6 Å), but stable values for individual EC repeats (<2.5 Å; Supplementary Figs 8a and 9a). In simulation S1b, a discrete jump in r.m.s.d.-Cα was observed for EC10 at ∼300 ns, which correlates with a 'flip' in the conformation of the supporting loop (residues 1,040–1,046) following the rupture of a Gly 1,009:O–Ile 1,042:N hydrogen bond and with the partial unfolding of the EC9–10 310 helix (Fig. 3f; Supplementary Fig. 9a,c,d). This transition was not observed in simulation S1c (Supplementary Fig. 8a,c,d). Also, unbending was not observed and the end-to-end angle and distance were stable throughout both simulations (Supplementary Figs 8e,f and 9e,f). This suggests that the EC9–10 repeats are bent in solution, spontaneously and occasionally transitioning between two very similar bent states.