Selectively tunable optical Stark effect of anisotropic excitons in atomically thin ReS 2
ABSTRACT
---
The optical Stark effect is a coherent light–matter interaction describing the modification of quantum states by non-resonant light illumination in atoms, solids and nanostructures. Researchers have strived to utilize this effect to control exciton states, aiming to realize ultra-high-speed optical switches and modulators. However, most studies have focused on the optical Stark effect of only the lowest exciton state due to lack of energy selectivity, resulting in low degree-of-freedom devices. Here, by applying a linearly polarized laser pulse to few-layer ReS2, where reduced symmetry leads to strong in-plane anisotropy of excitons, we control the optical Stark shift of two energetically separated exciton states. Especially, we selectively tune the Stark effect of an individual state with varying light polarization. This is possible because each state has a completely distinct dependence on light polarization due to different excitonic transition dipole moments. Our finding provides a methodology for energy-selective control of exciton states.
No MeSH data available.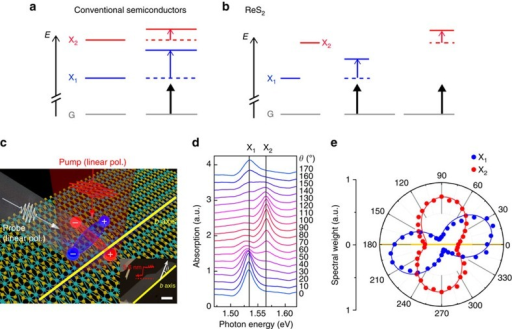 © Copyright Policy - open-access
License
getmorefigures.php?uid=PMC5120211&req=5
Mentions: When a semiconducting system is excited by a laser pulse with photon energy lower than that of exciton transition, a virtual optical transition is invoked resulting in so-called photon-dressed states12345678910111213141516. It usually interacts repulsively with original states, leading to the characteristic blue-shift of the exciton energy spectrum. Along with the fact that the coherent interaction can only take place during the time duration of an ultra-short laser pulse, such a unique feature makes this phenomena, the so-called excitonic optical Stark effect, ideal for ultrafast optical switches and modulators34567891012131415161718. So far, however, there has been no strategy for energy-selective control of exciton states. More specifically, in conventional semiconductors such as GaAs-based quantum wells, most relevant studies have been focused only on the lowest exciton state (for example, heavy-hole exciton), because it was impossible to selectively measure the optical Stark shift of the higher state (for example, light-hole exciton), as illustrated in Fig. 1a (refs 4, 5, 9, 11, 12). Thus, this effect still lacks practicality, with possible applications such as wavelength-selective optoelectronics. In this regard, if it is possible to selectively control the Stark shift of more than one exciton state, it shall be a technological breakthrough for novel optical devices with high degree-of-freedom and functionality.