Identification of an orally active small-molecule PTHR1 agonist for the treatment of hypoparathyroidism
ABSTRACT
---
Parathyroid hormone (PTH) is essential for calcium homeostasis and its action is mediated by the PTH type 1 receptor (PTHR1), a class B G-protein-coupled receptor. Hypoparathyroidism and osteoporosis can be treated with PTH injections; however, no orally effective PTH analogue is available. Here we show that PCO371 is a novel, orally active small molecule that acts as a full agonist of PTHR1. PCO371 does not affect the PTH type 2 receptor (PTHR2), and analysis using PTHR1–PTHR2 chimeric receptors indicated that Proline 415 of PTHR1 is critical for PCO371-mediated PTHR1 activation. Oral administration of PCO371 to osteopenic rats provokes a significant increase in bone turnover with limited increase in bone mass. In hypocalcemic rats, PCO371 restores serum calcium levels without increasing urinary calcium, and with stronger and longer-lasting effects than PTH injections. These results strongly suggest that PCO371 can provide a new treatment option for PTH-related disorders, including hypoparathyroidism.
No MeSH data available.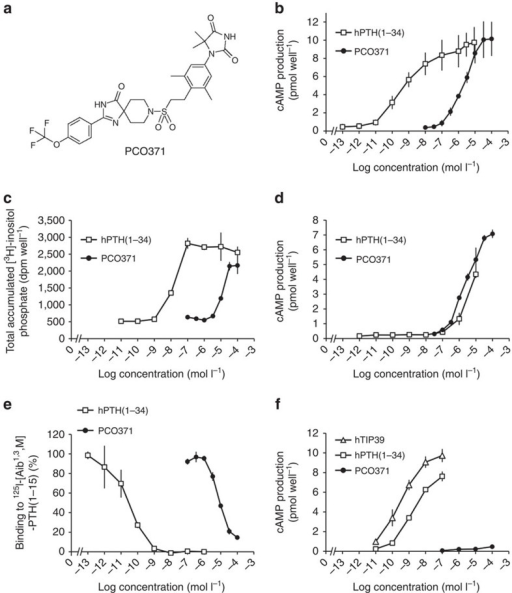 © Copyright Policy - open-access
License
getmorefigures.php?uid=PMC5120204&req=5
Mentions: PCO371 (Fig. 1a) was identified through a cell-based functional screening assay with transfected cells expressing hPTHR1. In COS-7 cells expressing hPTHR1, PCO371 stimulated cAMP production in a dose-dependent manner (EC50=2.4 μmol l−1, Fig. 1b). Similar results were obtained in COS-7 cells expressing rat PTHR1 (Supplementary Fig. 1a). PCO371 also enhanced the phospholipase C activity (EC50=17 μmol l−1) as did hPTH(1–34) (Fig. 1c). PCO371 stimulated cAMP production in COS-7 cells transfected with hPTHR1-delNT, which lacks the N-terminal extracellular domain of hPTHR1 (ref. 19), with an EC50 value (EC50=2.5 μmol l−1) similar to that of cells expressing full-length hPTHR1. On the other hand, the ability of hPTH(1–34) to induce cAMP production was significantly lower in cells transfected with hPTHR1-delNT than in those with the full-length hPTHR1 (Fig. 1b,d). We therefore examined whether PCO371 binds to the transmembrane domain of PTHR1 using cell membranes prepared from COS-7 cells expressing hPTHR1 and using 125I-[Aib1,3,Nle8, Gln10,Har11,Ala12,Trp14,Tyr15]–PTH(1–15) [125I-[Aib1,3,M]–PTH(1–15)], which interacts mainly with the receptor's transmembrane domain, as a radiolabelled tracer20. PCO371 at a concentration of 100 μmol l−1 inhibited the binding of 125I-[Aib1,3,M]–PTH(1–15) almost completely (Fig. 1e), suggesting that PCO371 exerts its agonist activity by interacting with PTHR1's transmembrane domain.