Refractory Obstructive Sleep Apnea in a Patient with Diffuse Idiopathic Skeletal Hyperostosis
ABSTRACT
---
Diffuse Idiopathic Skeletal Hyperostosis (DISH) can cause ossification of ligaments and may affect the spine. We report a case of obstructive sleep apnea in a patient with significant upper airway narrowing secondary to cervical DISH. This patient had an initial apnea-hypopnea index (AHI) of 145 events/hour and was treated with uvulopalatopharyngoplasty, genial tubercle advancement, hyoid suspension, septoplasty, inferior turbinoplasties, and radiofrequency ablations to the tongue base which reduced his AHI to 40 events/hour. He redeveloped symptoms, was started on positive airway pressure (PAP) therapy, and later underwent a maxillomandibular advancement which improved his AHI to 16.3 events/hour. A few years later his AHI was 100.4 events/hour. His disease has gradually progressed over time and he was restarted on PAP therapy. Despite PAP titration, years of using PAP therapy, and being 100 percent compliant for the past three months (average daily use of 7.6 hours/night), he has an AHI of 5.1 events/hour and has persistent hypersomnia with an Epworth Sleep Scale questionnaire score of 18/24. At this time he is pending further hypersomnia work-up. DISH patients require prolonged follow-up to monitor the progression of disease, and they may require unconventional measures for adequate treatment of obstructive sleep apnea.
No MeSH data available.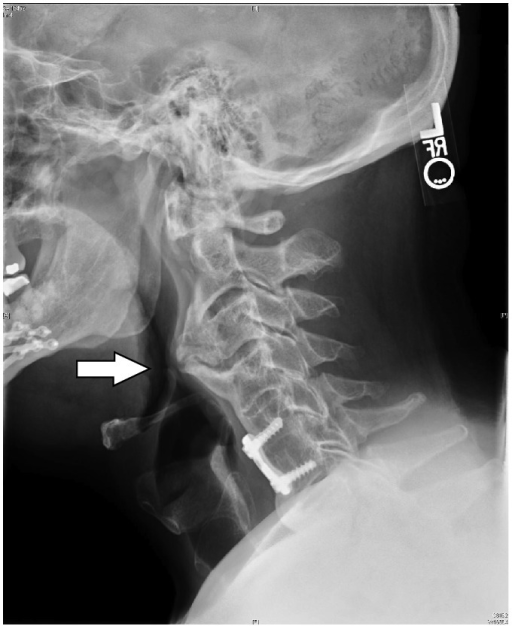 © Copyright Policy - open-access
getmorefigures.php?uid=PMC5120192&req=5
Mentions: Today, the patient is 57 years old and has continued to use positive airway pressure therapy. The bilevel data download demonstrates 100% compliance for the past three months and an average daily use of 7.6 hours/night. Despite the higher pressures, there was a residual device downloaded AHI of 5.1/h and the patient had persistent hypersomnia with an Epworth Sleep Scale (ESS) questionnaire score of 18/24 (≥11 being the cutoff for hypersomnia). Physical examination reveals that the patient is 71 inches and 240 lbs (body mass index of 33.5 kg/m2) with a blood pressure of 143/76. His nasal septum is straight and his inferior turbinates are nonobstructing bilaterally (grades 1 or 2) [5]. He has a high-arched and narrow hard palate, an overjet of 3 mm, tongue scalloping, and a Grade 3 Friedman Palate Position [6]. A plain neck radiograph (Figure 1) demonstrates large anterior cervical spine osteophytes involving C2 through C4, with sparing of the disc space and clear obstruction of the upper airway. The osteophytes are so large that they abut against the epiglottis. Potential causes for the patient's hypersomnia that were explored include (1) insomnia secondary to pain where he awakens several times throughout the night secondary to neck pain, currently treated with gabapentin 900 mg three times a day, and sometimes takes hydrocodone when the pain is significant, (2) history of prostate hypertrophy with nocturnal awakenings treated with tamsulosin 0.4 mg daily, (3) higher bilevel pressures awaken him because of "the sensation of strong airflow," and (4) restless leg syndrome treated with pramipexole 0.5 mg daily. Despite the appropriate medical management, the patient's hypersomnia has persisted, so he was prescribed modafinil 200 mg each morning. The patient states that the modafinil helps somewhat during the day, but it does not help him enough. In order to further assist the patient in reducing his hypersomnia, we are considering the following: (1) a new bilevel titration study to improve his experience with positive airway pressure therapy, (2) a multiple sleep latency test (MSLT) to help rule out narcolepsy, and (3) blood testing for other sources that can cause fatigue, sleepiness, and tiredness to include testosterone levels and iron levels.