Disseminated Cryptococcal Disease in Non-HIV, Nontransplant Patient
ABSTRACT
---
Disseminated cryptococcal infection carries a high risk of morbidity and mortality. Typical patients include HIV individuals with advanced immunosuppression or solid organ or hematopoietic transplant recipients. We report a case of disseminated cryptococcal disease in a 72-year-old male who was immunocompromised with chronic lymphocytic leukemia and ongoing chemotherapy. The patient presented with a subacute history of constitutional symptoms and headache after he received five cycles of FCR chemotherapy (fludarabine/cyclophosphamide/rituximab). Diagnosis of disseminated cryptococcal disease was made based on fungemia in peripheral blood cultures with subsequent involvement of the brain, lungs, and eyes. Treatment was started with liposomal amphotericin, flucytosine, and fluconazole as induction. He was discharged after 4 weeks of hospitalization on high dose fluconazole for consolidation for 2 months, followed by maintenance therapy.
No MeSH data available.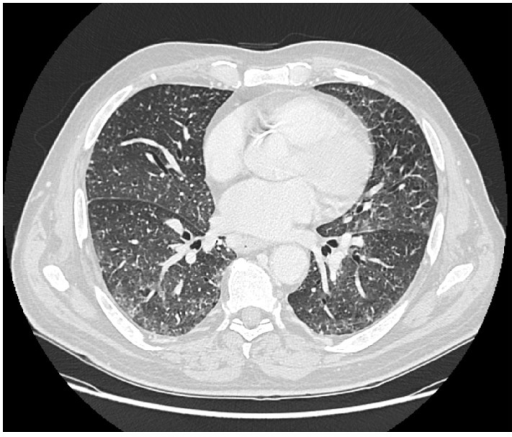 © Copyright Policy
License
getmorefigures.php?uid=PMC5120191&req=5
Mentions: A 72-year-old gentleman presented to hospital for assessment. He had a past medical history significant for chronic lymphocytic leukemia diagnosed 7 years prior to this presentation. He received three cycles of FCR chemotherapy (fludarabine/cyclophosphamide/rituximab), but this was discontinued in the fall of 2013 due to autoimmune hemolytic anemia. He also developed idiopathic thrombocytopenic purpura (ITP) and eventually began a new chemotherapy regimen including cyclophosphamide/vincristine and prednisone. Five cycles into this regimen he developed fevers, night sweats with cough, and mild headaches, without neurologic symptoms. The patient was admitted to the hospital, blood cultures revealed yeast, and caspofungin was started for presumed candidemia. Chest X-ray was normal. When the yeast was identified as Cryptococcus neoformans, liposomal amphotericin was started. The identification was based on colonial morphology, capsules seen on India ink, urea test positivity, and MALDI TOF. The initial serum cryptococcal antigen was 1 : 128. His CT chest revealed miliary nodules scattered throughout both lungs with the suggestion of cryptococcal pulmonary infection (Figure 1). CT head showed no focal lesions and symmetric ventricles, with no evidence of hydrocephalus. Lumbar puncture was performed showing normal protein, nucleated cell count 5 with 19 neutrophils and 80 lymphocytes, and positive cryptococcal antigen with a titre 1 : 1, with negative gram stain, bacterial culture, acid fast bacilli stain and TB culture, virology PCR (enterovirus, HSV 1 and 2, VZV), and HIV serology. He had evidence of retinitis bilaterally when assessed by ophthalmology. Flucytosine (100 mg/Kg per day in 4 divided doses) and fluconazole (for eye involvement) were added, in addition to liposomal amphotericin at 6 mg/Kg dose. In hospital he had mild increased ICP (opening pressure between 35–40), with serial therapeutic lumbar punctures. He developed thrombocytopenia approximately 4 weeks into his admission, leading to cessation of amphotericin and flucytosine, with a transition to fluconazole monotherapy. He was discharged after 4 weeks of hospitalization on high dose fluconazole and 800 mg po daily for consolidation for 2 months, followed by 400 mg po daily for maintenance therapy for 1 year. His cryptococcal antigen titers decreased gradually to negative as shown in Table 1. He continues to be on fluconazole 200 mg po daily indefinitely while remaining on prednisone for ITP. A follow-up CT chest done after the 1-year maintenance therapy showed interval resolution of the miliary nodules.