RNA Editing — Systemic Relevance and Clue to Disease Mechanisms?
ABSTRACT
---
Recent advances in sequencing technologies led to the identification of a plethora of different genes and several hundreds of amino acid recoding edited positions. Changes in editing rates of some of these positions were associated with diseases such as atherosclerosis, myopathy, epilepsy, major depression disorder, schizophrenia and other mental disorders as well as cancer and brain tumors. This review article summarizes our current knowledge on that front and presents glycine receptor C-to-U RNA editing as a first example of disease-associated increased RNA editing that includes assessment of disease mechanisms of the corresponding gene product in an animal model.
No MeSH data available.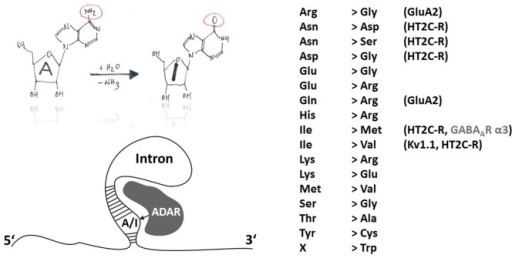 © Copyright Policy
License
getmorefigures.php?uid=PMC5120146&req=5
Mentions: Members of the ADAR family catalyze the deamination of adenosine to inosine except in protozoa, yeast and plants (Jin et al., 2009). Inosin is interpreted as guanosine (G) during mRNA translation. ADAR principle function and sites of action are shown in Figure 1. ADAR enzymes are highly conserved among invertebrates and vertebrates. Three different ADAR genes (ADAR1–3) were identified in the mammalian genome with ADAR1 being the first one (O'Connell and Keller, 1994; Kim et al., 1994a). During evolution, the ADAR family putatively arose from adenosine deaminases acting on tRNA (ADAT), which are conserved from yeast to man and also have a bacterial ortholog (TadA). Interestingly, the evolutionary predecessors of adenosine deaminases (ADAT and ADAR) are cytidine and not adenosine deaminases acting on mononucleotides, classifying ADARs, like APOBECs, into the cytidine deaminase family. This viewpoint is corroborated by comparison of the X-ray structures of the ADAR and APOBEC catalytic domains (for mechanisms of APOBEC-dependent RNA editing see below). The deamination motif of human ADAR2 bears two α-helices (α2 and α5) and four ß-strands that form a structure similar to the core of cytidine deaminase catalytic domains (Macbeth et al., 2005). Another similarity in the structural implications of APOBEC and ADAR is Zn2+ complexation at the active site of ADAR that is mediated by the histidine and glutamate residues of an HAE motif (aa 394–396 in human ADAR2) and the more distally located cysteine residues C451 and C516 (human ADAR2). Unlike APOBEC, members of the ADAR family are able to catalyze deamination without the aid of additional auxiliary proteins (Nishikura, 2010). This independent mode of action is perhaps intrinsic to several RNA binding domains located in the N-terminal part of the ADAR proteins. Thus, investigation of deamination mechanisms and the search for in vivo substrates may be more straightforward than in the case of the APOBEC enzymes. Catalytic activity has only been shown for the ubiquitously expressed ADAR1 and ADAR2 (Kim et al., 1994b; Higuchi et al., 2000) but not for brain specific ADAR3 which may be a regulatory component of the A-to-I editing machinery as it binds single and double stranded RNA and was shown to inhibit in vitro the activities of RNA editing enzymes of the ADAR gene family (Chen et al., 2000; Nishikura, 2010). Though most of the A-to-I RNA editing sites were attributed to non-coding genome regions such as Alu repeats or L1 LINE (Neeman et al., 2006), an increasing number of A-to-I RNA editing sites in protein coding regions is identified using advanced sequencing techniques (Levanon et al., 2005; Li et al., 2009; see http://www.rnaedit.com). Furthermore, there are some important indications that ADAR-mediated RNA editing modulates the efficiency of RNAi pathways including the generation of microRNAs (miRNAs) and the processing of small interfering RNAs (siRNAs) (Nishikura, 2006). However, 17 different amino acid recoding events can occur due to A-to-I changes within codons (Figure 1).