Intrinsic Resistance of Burkholderia cepacia Complex to Benzalkonium Chloride
ABSTRACT
---
Pharmaceutical products that are contaminated with Burkholderia cepacia complex (BCC) bacteria may pose serious consequences to vulnerable patients. Benzyldimethylalkylammonium chloride (BZK) cationic surfactants are extensively used in medical applications and have been implicated in the coselection of antimicrobial resistance. The ability of BCC to degrade BZK, tetradecyldimethylbenzylammonium chloride (C14BDMA-Cl), dodecyldimethylbenzylammonium chloride (C12BDMA-Cl), decyldimethylbenzylammonium chloride (C10BDMA-Cl), hexyldimethylbenzylammonium chloride, and benzyltrimethylammonium chloride was determined by incubation in 1/10-diluted tryptic soy broth (TSB) to determine if BCC bacteria have the ability to survive and inactivate these disinfectants. With BZK, C14BDMA-Cl, and C12BDMA-Cl, inhibition of the growth of 20 BCC strains was observed in disinfectant solutions that ranged from 64 to 256 µg/ml. The efflux pump inhibitor carbonyl cyanide m-chlorophenylhydrazone increased the sensitivity of bacteria to 64 µg/ml BZK. The 20 BCC strains grew well in 1/10-diluted TSB medium with BZK, C12BDMA-Cl, and C10BDMA-Cl; they absorbed and degraded the compounds in 7 days. Formation of benzyldimethylamine and benzylmethylamine as the initial metabolites suggested that the cleavage of the C alkyl-N bond occurred as the first step of BZK degradation by BCC bacteria. Proteomic data confirmed the observed efflux activity and metabolic inactivation via biodegradation in terms of BZK resistance of BCC bacteria, which suggests that the two main resistance mechanisms are intrinsic and widespread.
No MeSH data available.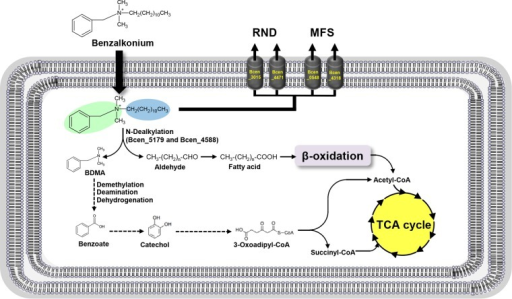 © Copyright Policy - open-access
License
getmorefigures.php?uid=PMC5120141&req=5
Mentions: In the initial analysis of the B. cenocepacia strain AU1054 genome, about 893 genes were annotated as transporter related (see Table S3). Of these genes, about 341 have been expressed as proteins (see Table S3). As shown in Fig. 5 (see Table S3), about 117 transporter-related proteins were STEM filtered and sorted into seven STEM expression patterns, indicating dynamic responses of various transport systems to BZK. No transport proteins were identified for STEM pattern 6 with initial upregulation (day 3) but later downregulation (days 7). In general, the class I primary active transporters with substrate specificity for sugars and amino acids (or dipeptides), including the ATP-binding cassette (ABC) transporter superfamily and the P-type ATPase superfamily, were initially downregulated (STEM patterns 1 to 3, see Fig. 6; see Table S3). On the other hand, two proteins, Bcen_0548 and Bcen_4318, of the major facilitator superfamily (MFS) and two proteins, Bcen_3015 and Bcen_4471, of the RND family, functioning for multidrug efflux pumping, were continually upregulated (STEM pattern 8) (Fig. 5). In addition, more than 10 ABC-type transporters with diverse substrate specificities, including toluene, xylose, and glycine, also belong to STEM patterns 5, 7, and 8 (Fig. 5; see Table S3). In the case of porin, of the 13 STEM-filtered porin proteins, about 8 were upregulated at day 7 (STEM pattern 5) or continually upregulated (STEM pattern 8).