Intrinsic Resistance of Burkholderia cepacia Complex to Benzalkonium Chloride
ABSTRACT
---
Pharmaceutical products that are contaminated with Burkholderia cepacia complex (BCC) bacteria may pose serious consequences to vulnerable patients. Benzyldimethylalkylammonium chloride (BZK) cationic surfactants are extensively used in medical applications and have been implicated in the coselection of antimicrobial resistance. The ability of BCC to degrade BZK, tetradecyldimethylbenzylammonium chloride (C14BDMA-Cl), dodecyldimethylbenzylammonium chloride (C12BDMA-Cl), decyldimethylbenzylammonium chloride (C10BDMA-Cl), hexyldimethylbenzylammonium chloride, and benzyltrimethylammonium chloride was determined by incubation in 1/10-diluted tryptic soy broth (TSB) to determine if BCC bacteria have the ability to survive and inactivate these disinfectants. With BZK, C14BDMA-Cl, and C12BDMA-Cl, inhibition of the growth of 20 BCC strains was observed in disinfectant solutions that ranged from 64 to 256 µg/ml. The efflux pump inhibitor carbonyl cyanide m-chlorophenylhydrazone increased the sensitivity of bacteria to 64 µg/ml BZK. The 20 BCC strains grew well in 1/10-diluted TSB medium with BZK, C12BDMA-Cl, and C10BDMA-Cl; they absorbed and degraded the compounds in 7 days. Formation of benzyldimethylamine and benzylmethylamine as the initial metabolites suggested that the cleavage of the C alkyl-N bond occurred as the first step of BZK degradation by BCC bacteria. Proteomic data confirmed the observed efflux activity and metabolic inactivation via biodegradation in terms of BZK resistance of BCC bacteria, which suggests that the two main resistance mechanisms are intrinsic and widespread.
No MeSH data available.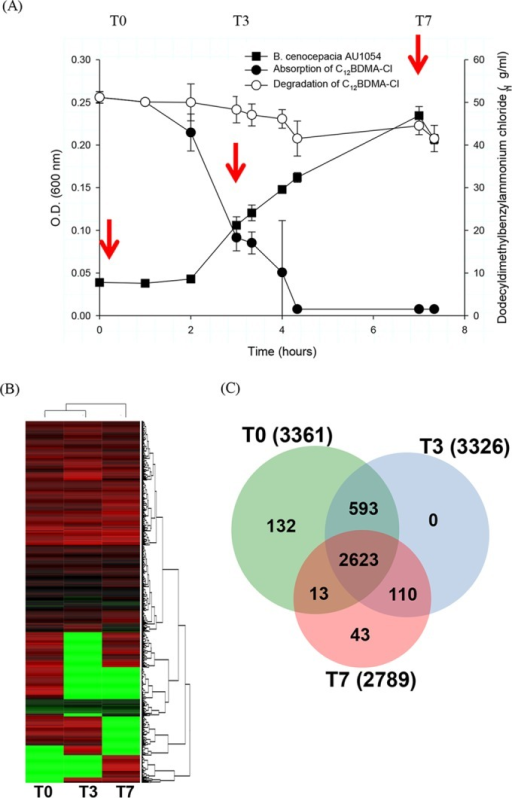 © Copyright Policy - open-access
License
getmorefigures.php?uid=PMC5120141&req=5
Mentions: To understand the global cellular response of BCC bacteria to BZK, a high-throughput whole-cell proteome analysis was conducted. Time points were chosen on the basis of the results of the BZK metabolism experiment. As a whole, we identified 3,361, 3,326, and 2,789 proteins, from culture samples at time zero, day 3, and day 7 (Fig. 3A), respectively, which add up to 3,747 unique proteins (56.5% of the 6,632 genome-predicted proteins) in total (see Table S1 in the supplemental material). As revealed in the clustering analysis (Fig. 3B), the proteomic data set shows an apparent correlation between the profiles of protein expression with respect to BZK exposure time, indicating the reliability of the proteomic results. About 2,623 proteins were identified as commonly shared between controls and two other samples, while other proteins (1,124) were identified either in control (time zero) or BZK-exposed samples (Fig. 3B and C). Compared with the sample at time zero, about 1,648 proteins at day 3 or 7 were up- or downregulated.