High Diversity of Genogroup I Picobirnaviruses in Mammals
ABSTRACT
---
In a molecular epidemiology study using 791 fecal samples collected from different terrestrial and marine mammals in Hong Kong, genogroup I picobirnaviruses (PBVs) were positive by RT-PCR targeting the partial RdRp gene in specimens from five cattle, six monkeys, 17 horses, nine pigs, one rabbit, one dog, and 12 California sea lions, with 11, 9, 23, 17, 1, 1, and 15 sequence types in the positive specimens from the corresponding animals, respectively. Phylogenetic analysis showed that the PBV sequences from each kind of animal were widely distributed in the whole tree with high diversity, sharing 47.4–89.0% nucleotide identities with other genogroup I PBV strains based on the partial RdRp gene. Nine complete segment 1 (viral loads 1.7 × 104 to 5.9 × 106/ml) and 15 segment 2 (viral loads 4.1 × 103 to 1.3 × 106/ml) of otarine PBVs from fecal samples serially collected from California sea lions were sequenced. In the two phylogenetic trees constructed using ORF2 and ORF3 of segment 1, the nine segment 1 sequences were clustered into four distinct clades (C1–C4). In the tree constructed using RdRp gene of segment 2, the 15 segment 2 sequences were clustered into nine distinct clades (R1–R9). In four sea lions, PBVs were detected in two different years, with the same segment 1 clade (C3) present in two consecutive years from one sea lion and different clades present in different years from three sea lions. A high diversity of PBVs was observed in a variety of terrestrial and marine mammals. Multiple sequence types with significant differences, representing multiple strains of PBV, were present in the majority of PBV-positive samples from different kinds of animals.
No MeSH data available.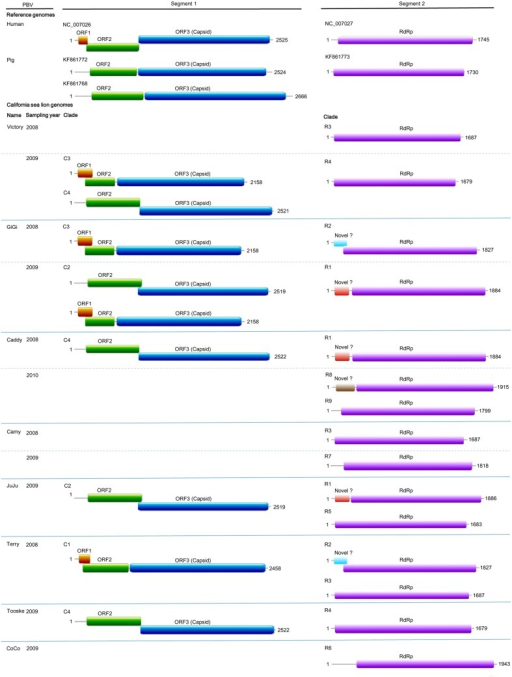 © Copyright Policy
License
getmorefigures.php?uid=PMC5120130&req=5
Mentions: Nine complete segment 1 of otarine PBVs from sea lions were sequenced and assembled (Table 2; Figure 2). These segment 1 sequences ranged from 2,158 to 2,522 bases in length with overall G+C contents of 41.1–46.0%. The 5′ non-coding regions (44–169 bases) were AU-rich (G+C contents of 22.7–37.9%) with five conserved bases, GUAAA, located at the 5′ end. A predicted highly stable stem loop structure found in other known PBVs was observed in five segment 1 sequences as a result of the pairing of 5′-GUAAA-3′ and 5′-UUUAC-3′ in the 5′ non-coding region (Nates et al., 2011). The 3′ non-coding regions (19–32 bases) contained G+C contents ranging from 53.1 to 71.4% and end with 3–4 conserved bases (CTC, CTTC, or CACC). All the nine segment 1 sequences possess one long ORF (1,590–1,728 bp) encoding the capsid protein of 529–575 amino acids. These capsid proteins shared low (19.3–37.2%) amino acid identities with those of other PBV strains, being most closely related to turkey PBV TK/MN/2011 (GenBank number KJ495689), fox PBV F5-1 (GenBank number KC692367) and human PBV Hy005102 (GenBank number NC_007026). Upstream to the ORF for the capsid protein, there were one to two short ORFs in the nine segment 1, consistent with the organization of the segment 1 in other known PBVs (Wakuda et al., 2005; Bodewes et al., 2013; Banyai et al., 2014; Verma et al., 2015). The protein encoded by the ORF2 of segment 1 from the nine otarine PBVs possessed different numbers of repetitions of the same motif, ExxRxNxxxE, that was also observed in the corresponding protein in other known PBVs (Da Costa et al., 2011).