NCR1 Expression Identifies Canine Natural Killer Cell Subsets with Phenotypic Similarity to Human Natural Killer Cells
ABSTRACT
---
Canines spontaneously develop many cancers similar to humans – including osteosarcoma, leukemia, and lymphoma – offering the opportunity to study immune therapies in a genetically heterogeneous and immunocompetent environment. However, a lack of antibodies recognizing canine NK cell markers has resulted in suboptimal characterization and unknown purity of NK cell products, hindering the development of canine models of NK cell adoptive immunotherapy. To this end, we generated a novel antibody to canine NCR1 (NKp46), the putative species-wide marker of NK cells, enabling purification of NK cells for further characterization. We demonstrate that CD3−/NKp46+ cells in healthy and osteosarcoma-bearing canines have phenotypic similarity to human CD3−/NKp46+ NK cells, expressing mRNA for CD16 and the natural cytotoxicity receptors NKp30, NKp44, and NKp80. Functionally, we demonstrate with the calcein release assay that canine CD3−/NKp46+ cells kill canine tumor cell lines without prior sensitization and secrete IFN-γ, TNF-α, IL-8, IL-10, and granulocyte-macrophage colony-stimulating factor as measured by Luminex. Similar to human NK cells, CD3−/NKp46+ cells expand rapidly on feeder cells expressing 4-1BBL and membrane-bound IL-21 (median = 20,283-fold in 21 days). Furthermore, we identify a minor Null population (CD3−/CD21−/CD14−/NKp46−) with reduced cytotoxicity against osteosarcoma cells, but similar cytokine secretion as CD3−/NKp46+ cells. Null cells in canines and humans have reduced expression of NKG2D, NKp44, and CD16 compared to NKp46+ NK cells and can be induced to express NKp46 with further expansion on feeder cells. In conclusion, we have identified and characterized canine NK cells, including an NKp46− subset of canine and human NK cells, using a novel anti-canine NKp46 antibody, and report robust ex vivo expansion of canine NK cells sufficient for adoptive immunotherapy.
No MeSH data available.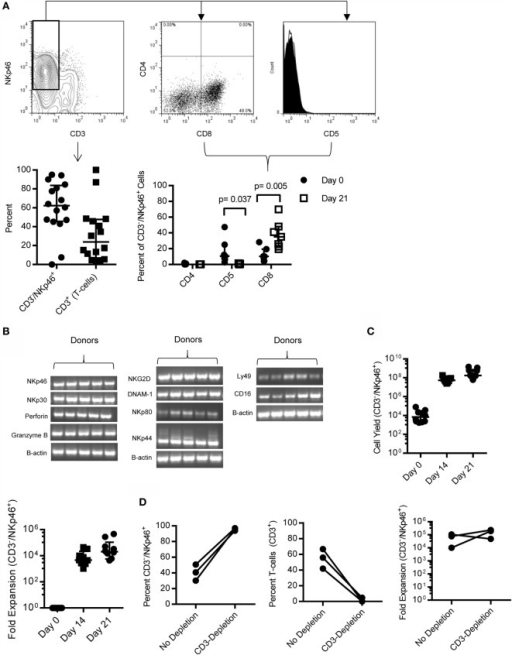 © Copyright Policy
License
getmorefigures.php?uid=PMC5120128&req=5
Mentions: When PBMC was cultured for 21 days on K562 Clone9.mbIL21 with rcIL-2, CD3−/NKp46+ cells made up a median 62.31% (IQR = 45.7, 83.7, n = 16) and CD3+ T cells comprised a minor portion (median = 23.85%, IQR = 6.9%, 47.7%, n = 16) of the total expanded cell product (Figure 3A), with the exception of two outliers. The phenotype of the CD3−/NKp46+ cells significantly changed during expansion, with CD5 decreasing (p = 0.037, Median = day 0: 10.6, IQR = 6.42, 25; day 21: 0.35, IQR = 0.1, 1.02) and CD8α increasing (p = 0.005, Median = day 0: 9.33, IQR = 4.35, 16.03; day 21: 35, IQR = 22.7, 48.1) (Figure 3B). In order to further characterize the expanded CD3−/NKp46+ cells, for which antibodies to other NK cell receptors are not available, semi-quantitative RT-PCR was performed on sorted CD3−/NKp46+ for several known human or mouse NK cell-associated genes for which canines are predicted to have homologous genes. Expanded NK cells from all donors expressed mRNA for NKp46, NKp30, NKp44, NKp80, NKG2D, DNAM-1, CD16, Ly49, Granzyme B, and Perforin, confirming that canine CD3−/NKp46+ cells express typical NK cell-associated genes (Figure 3C).