What Is the Link between Stringent Response, Endoribonuclease Encoding Type II Toxin – Antitoxin Systems and Persistence?
ABSTRACT
---
Persistence is a transient and non-inheritable tolerance to antibiotics by a small fraction of a bacterial population. One of the proposed determinants of bacterial persistence is toxin–antitoxin systems (TASs) which are also implicated in a wide range of stress-related phenomena. Maisonneuve E, Castro-Camargo M, Gerdes K. 2013. Cell 154:1140–1150 reported an interesting link between ppGpp mediated stringent response, TAS, and persistence. It is proposed that accumulation of ppGpp enhances the accumulation of inorganic polyphosphate which modulates Lon protease to degrade antitoxins. The decrease in the concentration of antitoxins supposedly activated the toxin to increase in the number of persisters during antibiotic treatment. In this study, we show that inorganic polyphosphate is not required for transcriptional activation of yefM/yoeB TAS, which is an indirect indication of Lon-dependent degradation of YefM antitoxin. The Δ10 strain, an Escherichia coli MG1655 derivative in which the 10 TAS are deleted, is more sensitive to ciprofloxacin compared to wild type MG1655. Furthermore, we show that the Δ10 strain has relatively lower fitness compared to the wild type and hence, we argue that the persistence related implications based on Δ10 strain are void. We conclude that the transcriptional regulation and endoribonuclease activity of YefM/YoeB TAS is independent of ppGpp and inorganic polyphosphate. Therefore, we urge for thorough inspection and debate on the link between chromosomal endoribonuclease TAS and persistence.
No MeSH data available.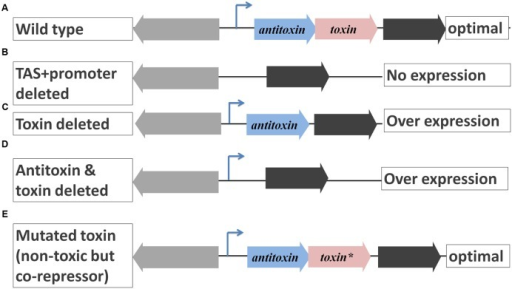 © Copyright Policy
License
getmorefigures.php?uid=PMC5120126&req=5
Mentions: We then performed biofilm assay for a prolonged period to determine any differences between these strains in their ability to form biofilms. We found that MG1655 formed consistently more biofilm, represented as absorbance of redissolved crystal violet, compared to the Δ10 strain at all the time intervals analyzed (16, 24, 48, and 72 h). At 16 h, Δ10 strain formed 66% lesser biofilm compared to MG1655 strain. Upon prolonged incubation, after 72 h, Δ10 strain formed 35% lesser biofilm relative to wild type (Figure 4C). These observations reinforce the notion that the Δ10 strain is not as healthy as the wild type. In this case, Δ10 strain has significantly lower fitness compared to the wild type likely due to the effects of deletions. The loss of fitness could be attributed to two aspects; (i) to the loss of TAS function and (ii) the polar effects on the adjacent genes due to deletion of TAS. One could argue that TAS are responsible for higher growth rate, higher CFU/ml in 12 h as well as higher biofilm formation. However, a qualified counter argument is that the polar effects due to deletion of the 10 TAS, and not necessarily the loss of TAS function, might have caused the metabolic deficiency. This is due to inadvertent interference with coding and/or regulatory sequences of the bordering regions. In our view, it is most likely that the expression of the bordering genes is compromised resulting in decreased fitness of Δ10 strain. It should be noted that TAS are horizontally transferring genes (Ramisetty and Santhosh, 2016) and are integrated within the bacterial core genome adjacent, and/or in close proximity, to important genes. As summarized in the Table 1, most of the genes that are immediately downstream of TA genes have important functions in bacterial physiology as enzymes (yafP, fadH) or transcriptional factors (ydcR, agaR) or in nucleotide metabolism (mazG, yeeZ, ppa) or in membrane metabolism (yafK, hokD, ygiS) (Table 1). It must be noted that the minimal composition of a horizontally transferring TAS consists of a promoter/operator and TA ORFs but is not composed of a terminator (Ramisetty and Santhosh, 2016). Hence, the downstream gene is cotranscribed with the TA genes because there is no promoter or terminator in the intergenic region between TA operon and the downstream gene, e.g., relBEF (Gotfredsen and Gerdes, 1998) and mazEFG (Gross et al., 2006) (Table 1). The spacers between the adjacent genes range from 9 to 218 bp, which is inclusive of the operator/promoter regions if any. Hence, the TA genes are highly linked to the downstream genes physically as well as transcriptionally. It is highly plausible that the artificial deletion of TA genes could cause polar effect on the expression of one or more of these bordering genes which is likely to result in loss of fitness (summarized in Figure 5). Therefore, confirmation that there are no polar effects on the expression and/or the reading frames of the adjacent genes due to deletion of TA genes is essential. Attribution of the observed phenotypes solely to TAS may result in faulty interpretations and mislead the research community.