What Is the Link between Stringent Response, Endoribonuclease Encoding Type II Toxin – Antitoxin Systems and Persistence?
ABSTRACT
---
Persistence is a transient and non-inheritable tolerance to antibiotics by a small fraction of a bacterial population. One of the proposed determinants of bacterial persistence is toxin–antitoxin systems (TASs) which are also implicated in a wide range of stress-related phenomena. Maisonneuve E, Castro-Camargo M, Gerdes K. 2013. Cell 154:1140–1150 reported an interesting link between ppGpp mediated stringent response, TAS, and persistence. It is proposed that accumulation of ppGpp enhances the accumulation of inorganic polyphosphate which modulates Lon protease to degrade antitoxins. The decrease in the concentration of antitoxins supposedly activated the toxin to increase in the number of persisters during antibiotic treatment. In this study, we show that inorganic polyphosphate is not required for transcriptional activation of yefM/yoeB TAS, which is an indirect indication of Lon-dependent degradation of YefM antitoxin. The Δ10 strain, an Escherichia coli MG1655 derivative in which the 10 TAS are deleted, is more sensitive to ciprofloxacin compared to wild type MG1655. Furthermore, we show that the Δ10 strain has relatively lower fitness compared to the wild type and hence, we argue that the persistence related implications based on Δ10 strain are void. We conclude that the transcriptional regulation and endoribonuclease activity of YefM/YoeB TAS is independent of ppGpp and inorganic polyphosphate. Therefore, we urge for thorough inspection and debate on the link between chromosomal endoribonuclease TAS and persistence.
No MeSH data available.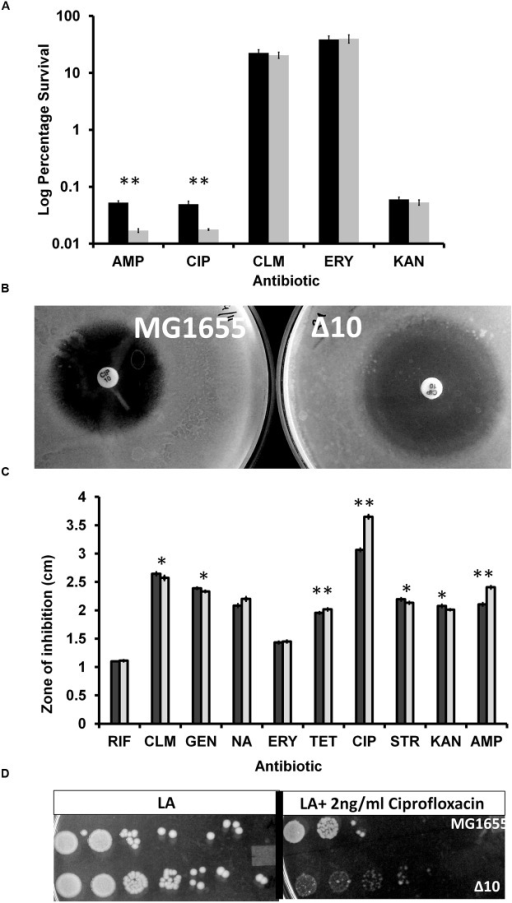 © Copyright Policy
License
getmorefigures.php?uid=PMC5120126&req=5
Mentions: The induction of persistence (Korch and Hill, 2006; Butt et al., 2014) by over expression of toxins was challenged and shown that even proteins unrelated to toxins, during controlled over expression, induced persistence (Vazquez-Laslop et al., 2006). Maisonneuve et al. (2011) reported that Δ10 strain (E. coli MG1655 derivative in which 10 endoribunuclease TAS were deleted) had lesser persister frequency compared to wild type strain when challenged with ciprofloxacin and ampicillin. Since there were no reports (during the time these experiments were carried out) on the TAS mediated persistence during treatment with other antibiotics, we performed similar experiments to determine persistence to treatment of logarithmically growing cultures of MG1655 and Δ10 strains to ciprofloxacin (1 μg/ml), ampicillin (100 μg/ml), erythromycin (100 μg/ml), kanamycin (50 μg/ml), and chloramphenicol (100 μg/ml). We found that with ampicillin and ciprofloxacin, Δ10 strain had significantly lesser persister frequency compared to the wild type MG1655 (≈65-fold) (Figure 3A). However, we could not find significant difference in the number of persisters formed by Δ10 and MG1655 with chloramphenicol, erythromycin, and kanamycin. If toxin induced dormancy or metabolic regression results in bacterial persistence, similar persistence should be observed with other antibiotics (inhibitors of translation) especially because all the toxins in the study are translational inhibitors. Several inhibitors of translation were shown to activate TAS (Christensen et al., 2001) and hence, in principle, confer more persistence. At least with kanamycin, since it is a bactericidal antibiotic, we expected persistence conferred by TAS. However, wild type and Δ10 strains formed equal number of persisters upon treatment with kanamycin. Similar observation (Shan et al., 2015) with gentamycin, another aminoglycoside antibiotic, wherein significant persistence was not observed (Wood, 2016) corroborates our findings.