What Is the Link between Stringent Response, Endoribonuclease Encoding Type II Toxin – Antitoxin Systems and Persistence?
ABSTRACT
---
Persistence is a transient and non-inheritable tolerance to antibiotics by a small fraction of a bacterial population. One of the proposed determinants of bacterial persistence is toxin–antitoxin systems (TASs) which are also implicated in a wide range of stress-related phenomena. Maisonneuve E, Castro-Camargo M, Gerdes K. 2013. Cell 154:1140–1150 reported an interesting link between ppGpp mediated stringent response, TAS, and persistence. It is proposed that accumulation of ppGpp enhances the accumulation of inorganic polyphosphate which modulates Lon protease to degrade antitoxins. The decrease in the concentration of antitoxins supposedly activated the toxin to increase in the number of persisters during antibiotic treatment. In this study, we show that inorganic polyphosphate is not required for transcriptional activation of yefM/yoeB TAS, which is an indirect indication of Lon-dependent degradation of YefM antitoxin. The Δ10 strain, an Escherichia coli MG1655 derivative in which the 10 TAS are deleted, is more sensitive to ciprofloxacin compared to wild type MG1655. Furthermore, we show that the Δ10 strain has relatively lower fitness compared to the wild type and hence, we argue that the persistence related implications based on Δ10 strain are void. We conclude that the transcriptional regulation and endoribonuclease activity of YefM/YoeB TAS is independent of ppGpp and inorganic polyphosphate. Therefore, we urge for thorough inspection and debate on the link between chromosomal endoribonuclease TAS and persistence.
No MeSH data available.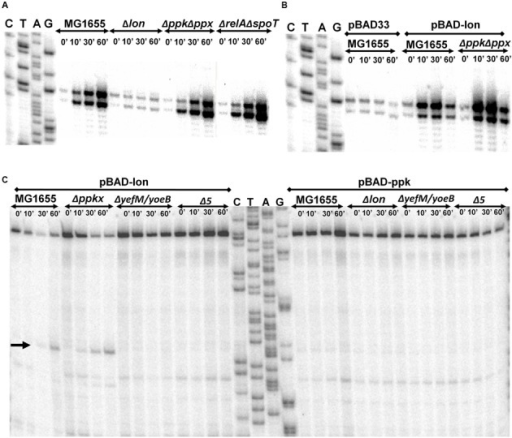 © Copyright Policy
License
getmorefigures.php?uid=PMC5120126&req=5
Mentions: The transcriptional upregulation of yefM/yoeB loci, or any typical TAS, is inversely proportional to the relative concentration of YefM. This is because TA proteins regulate their own expression by binding to their own promoter/operator; transcription of TA operon is inversely proportional to the concentration of antitoxin. Hence, any transcriptional activation from yefM/yoeB operon indicates a decrease in YefM concentration (Kedzierska et al., 2007; Bailey and Hayes, 2009). Therefore, quantification of the YefM mRNA is a good indicator of YefM concentration in the cell. To test the essentiality of polyP in Lon-dependent degradation of YefM in vivo, we employed semi-quantitative primer extension (Christensen et al., 2001, 2003) of YefM mRNA. Although widely used, semi-quantitative primer extension based quantification of TAS transcriptional activity is an indirect assay that is indicative of antitoxin degradation. However, this assay has the advantage of a holistic transcriptional regulatory scenario of TAS without employing any genetic manipulations within the TA circuitry, thus avoiding artifacts. To test the role of ppGpp and polyP in the regulation of yefM/yoeB system, we performed amino acid starvation experiments using serine hydroxymate (SHX) and analyzed the transcription of yefM/yoeB loci using semi-quantitative primer extension using a YefM mRNA-specific primer. Exponentially growing E. coli strains MG1655 (wild type), Δlon, ΔppkΔppx, and ΔrelAΔspoT, were treated with 1 mg/ml of SHX to induce serine starvation. ΔppkΔppx and ΔrelAΔspoT strains are deficient in accumulating polyP and ppGpp, respectively (Xiao et al., 1991; Crooke et al., 1994). In the wild type strain, we found a dramatic increase (16-fold) in the transcription of yefM/yoeB loci while in Δlon strain there was no change (Figure 2A). Interestingly and importantly, we found a higher level of transcription of yefM/yoeB loci in ΔrelAΔspoT as well as ΔppkΔppx strains indirectly indicating that ppGpp or polyP is not required for YefM degradation during amino acid starvation. To further investigate the essentiality of polyP we also carried out overexpression of Lon protease in MG1655 and ΔppkΔppx strains to know the role of polyP in the regulation of yefM/yoeB system and found that transcription of yefM/yoeB increased similarly in both MG1655 and ΔppkΔppx strains (Figure 2B). These observations corroborate the earlier findings that the transcriptional regulation of relBE (Christensen et al., 2001) and mazEF systems (Christensen et al., 2003) during SHX-induced starvation is independent of ppGpp but dependent on Lon protease. In fact, RelA dependent accumulation of ppGpp was shown to be inhibited by chloramphenicol treatment (Svitil et al., 1993; Boutte and Crosson, 2011) and yet the relBE and mazEF TAS were shown to be upregulated upon addition of chloramphenicol (Christensen et al., 2001, 2003).