Accumulation and Secretion of Coumarinolignans and other Coumarins in Arabidopsis thaliana Roots in Response to Iron Deficiency at High pH
ABSTRACT
---
Root secretion of coumarin-phenolic type compounds has been recently shown to be related to Arabidopsis thaliana tolerance to Fe deficiency at high pH. Previous studies revealed the identity of a few simple coumarins occurring in roots and exudates of Fe-deficient A. thaliana plants, and left open the possible existence of other unknown phenolics. We used HPLC-UV/VIS/ESI-MS(TOF), HPLC/ESI-MS(ion trap) and HPLC/ESI-MS(Q-TOF) to characterize (identify and quantify) phenolic-type compounds accumulated in roots or secreted into the nutrient solution of A. thaliana plants in response to Fe deficiency. Plants grown with or without Fe and using nutrient solutions buffered at pH 5.5 or 7.5 enabled to identify an array of phenolics. These include several coumarinolignans not previously reported in A. thaliana (cleomiscosins A, B, C, and D and the 5′-hydroxycleomiscosins A and/or B), as well as some coumarin precursors (ferulic acid and coniferyl and sinapyl aldehydes), and previously reported cathecol (fraxetin) and non-cathecol coumarins (scopoletin, isofraxidin and fraxinol), some of them in hexoside forms not previously characterized. The production and secretion of phenolics were more intense when the plant accessibility to Fe was diminished and the plant Fe status deteriorated, as it occurs when plants are grown in the absence of Fe at pH 7.5. Aglycones and hexosides of the four coumarins were abundant in roots, whereas only the aglycone forms could be quantified in the nutrient solution. A comprehensive quantification of coumarins, first carried out in this study, revealed that the catechol coumarin fraxetin was predominant in exudates (but not in roots) of Fe-deficient A. thaliana plants grown at pH 7.5. Also, fraxetin was able to mobilize efficiently Fe from a Fe(III)-oxide at pH 5.5 and pH 7.5. On the other hand, non-catechol coumarins were much less efficient in mobilizing Fe and were present in much lower concentrations, making unlikely that they could play a role in Fe mobilization. The structural features of the array of coumarin type-compounds produced suggest some can mobilize Fe from the soil and others can be more efficient as allelochemicals.
No MeSH data available.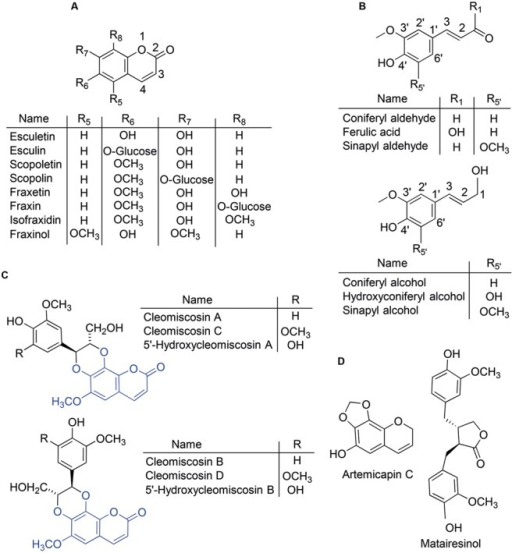 © Copyright Policy
License
getmorefigures.php?uid=PMC5120119&req=5
Mentions: The phenolic compounds category, including ca. 10,000 individual compounds in plants (Croteau et al., 2000), has been long considered to be one of the major components of the cocktail of small molecules secreted by roots of Fe-deficient plants (Cesco et al., 2010). In particular, the coumarin compounds class (O-containing heterocycles with a benzopyrone backbone; Figure 1A), which includes at least 1,300 compounds in plants (Borges et al., 2005) has been the focus of recent studies with A. thaliana. Upon Fe deficiency, there is a transcriptional up-regulation in roots both of the central phenylpropanoid pathway (from phenylalanine ammonia lyase, one of the upstream enzymes in the pathway, to the coumarate:CoA ligases 4CL1 and 4CL2 that mediate its last step) and of a crucial step of a phenylpropanoid biosynthetic branch, the 2-oxoglutarate-dependent dioxygenase enzyme feruloyl-CoA 6′-hydroxylase1 (F6′H1) (García et al., 2010; Yang et al., 2010; Lan et al., 2011; Rodríguez-Celma et al., 2013; Fourcroy et al., 2014; Schmid et al., 2014; Schmidt et al., 2014), which is responsible for the synthesis of the highly fluorescent coumarin scopoletin (Kai et al., 2008). Up to now, a total of five coumarins, esculetin, fraxetin, scopoletin, isofraxidin and an isofraxidin isomer have been described in Fe-deficient A. thaliana roots in both glycoside and aglycone forms (Figure 1A, Supplementary Table S1; Fourcroy et al., 2014; Schmid et al., 2014; Schmidt et al., 2014).