Diazotroph Diversity in the Sea Ice, Melt Ponds, and Surface Waters of the Eurasian Basin of the Central Arctic Ocean
ABSTRACT
---
The Eurasian basin of the Central Arctic Ocean is nitrogen limited, but little is known about the presence and role of nitrogen-fixing bacteria. Recent studies have indicated the occurrence of diazotrophs in Arctic coastal waters potentially of riverine origin. Here, we investigated the presence of diazotrophs in ice and surface waters of the Central Arctic Ocean in the summer of 2012. We identified diverse communities of putative diazotrophs through targeted analysis of the nifH gene, which encodes the iron protein of the nitrogenase enzyme. We amplified 529 nifH sequences from 26 samples of Arctic melt ponds, sea ice and surface waters. These sequences resolved into 43 clusters at 92% amino acid sequence identity, most of which were non-cyanobacterial phylotypes from sea ice and water samples. One cyanobacterial phylotype related to Nodularia sp. was retrieved from sea ice, suggesting that this important functional group is rare in the Central Arctic Ocean. The diazotrophic community in sea-ice environments appear distinct from other cold-adapted diazotrophic communities, such as those present in the coastal Canadian Arctic, the Arctic tundra and glacial Antarctic lakes. Molecular fingerprinting of nifH and the intergenic spacer region of the rRNA operon revealed differences between the communities from river-influenced Laptev Sea waters and those from ice-related environments pointing toward a marine origin for sea-ice diazotrophs. Our results provide the first record of diazotrophs in the Central Arctic and suggest that microbial nitrogen fixation may occur north of 77°N. To assess the significance of nitrogen fixation for the nitrogen budget of the Arctic Ocean and to identify the active nitrogen fixers, further biogeochemical and molecular biological studies are needed.
No MeSH data available.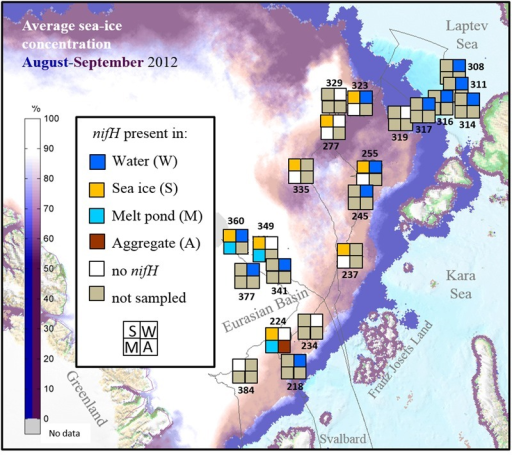 © Copyright Policy
License
getmorefigures.php?uid=PMC5120112&req=5
Mentions: A total of 53 samples were taken for this investigation during the ARKXXVII/3 cruise to the Central Arctic (77–88°N and 30–133°E) from the 7th of August to the 30th of September, 2012, onboard the German icebreaker R/V POLARSTERN (Supplementary Table S1). Sea ice, melt ponds and seawater were sampled at 9 ice stations and 13 water stations located in different parts of the central Eurasian Basin. Surface water samples from ice-covered waters (n = 13) were differentiated from those from open water from the Laptev Sea region (n = 6) for the analysis. Our samples come from a wide range of ice conditions and nutrient regimes (Figure 1). Samples of rapidly melting sea ice (n = 21) were taken using an ice corer (Kovacs Entreprise, Roseburg, OR, USA) and cut into two sections (top and bottom) prior to being transferred to plastic containers that had been rinsed with ultrapure water and ethanol and melted in the dark at 4°C. Samples of melt pond water (n = 8) and algal aggregates (n = 5) found in melt ponds were collected using a hand pump (Model 6132-0010, Nalgene, Penfield, NY, USA) and stored in clean Nalgene bottles. Samples of water under the ice (n = 5) were collected using a peristaltic pump (Masterflex® E/STM portable sampler, 115 VAC, Oldham, UK). Surface water (2–5 m depth) samples at all other stations (n = 13) were collected with a rosette sampler equipped with Niskin bottles and a Conductivity Temperature Depth (CTD) profiler (Sea-Bird Electronics Inc., Bellevue, WA, USA). In addition, ultrapure water was sampled to check for possible contaminations from the onboard water purification system (Milli-Q Gradient A10, Millipore) when using this water to rinse the sampling equipment. Between 0.3 and 2 L volume of each sample were filtered through Sterivex filters of 0.2 μm pore size (Durapore, Milipore, Darmstadt, Germany) using a multichannel peristaltic pump (Model PD 51; Heidolph, Schwabach, Germany). Filters were stored at -80°C until further processing.