Biotic/Abiotic Stress-Driven Alzheimer's Disease
Alzheimer's disease (AD), a neurodegenerative condition, is characterized by deficient synaptic plasticity, dramatic neuronal dysfunction, and massive neuronal loss... Mounting evidence supports that LPS and interferon γ (IFN-γ) activate microglia to induce a pro-inflammatory neurotoxic M1 phenotype, whereas interleukin 4 (IL-4), IL-10, IL-13, and transforming growth factor β (TGF-β) activate microglia to give rise to an anti-inflammatory neuroprotective M2 phenotype (Tang and Le, )... Interestingly, we found that electric acupuncture can mimic mechanical wounding to firstly deteriorate LPS-induced AD-like brain pathogenesis, but secondly ameliorate the progressive neurodegeneration in a wounding-healing manner, suggesting a putative conversion from M1 microglia to M2 microglia (He, )... A recent study on gut microbiota dysbiosis indicated that intestinal microbiome alterations are related to the malfunctional motor phenotypes, suggesting the overgrowth of intestinal commensal microbes (i.e., opportunistic infection) acting as a neurodegenerative driver (Scheperjans et al., )... Sulfate-reducing bacteria (SRB), such as the Gram-positive Firmicutes and Gram-negative Proteobacteria, colonize 50% of human guts (Stewart et al., )... According to a recent introduction by Scheperjans on the relevance of gut microbiota to Aβ deposition, germ-free APPSWE/PS1ΔE9 mice show mitigated amyloidosis in the brain compared with conventional APPSWE/PS1ΔE9 mice... While colonization of germ-free APPSWE/PS1ΔE9 mice with harvested gut microbiota from conventional APPSWE/PS1ΔE9 mice aggravates cerebral amyloidosis, colonization with gut microbiota from wild-type mice fails to increase cerebral Aβ levels... Aβ has been confirmed to protect mouse, nematode, and cell culture models of AD from fungal and bacterial infections because propagating fibrils mediate the agglutination and eventual entrapment of pathogens... Indeed, bacterial infection by Salmonella typhimurium in the brains of transgenic AD mice results in accelerated Aβ deposition, which can co-localize with invading bacteria (Kumar et al., )... In the observation, soluble Aβ levels were elevated, plaque-localized glial reactivity attenuated, and microglial morphology altered, suggesting a diversity of gut microbiota regulating host innate immunity, and impacting amyloidosis (Minter et al., )... Aβ was also found to possess antiviral activity against HSV-1 and influenza A (White et al., ; Bourgade et al.,, )... Why Aβ progressively deposits remains largely unknown, but S-nitrosylation of cysteine residues in Aβ-degrading enzymes might be relevant, and nitric oxide (NO) involved... The impact from NO-mediated nitrosative stress was found to prompt the S-nitrosylation of insulin-degrading enzyme (IDE) and dynamin-related protein 1 (Drp1) responsible for Aβ degradation, thus inhibiting Aβ catabolism and hyperactivating mitochondrial fission machinery... The raised Aβ levels and compromised mitochondrial bioenergetics were shown to result in dysfunctional synaptic plasticity and synapse loss in cortical and hippocampal neurons (Akhtar et al., ).
No MeSH data available.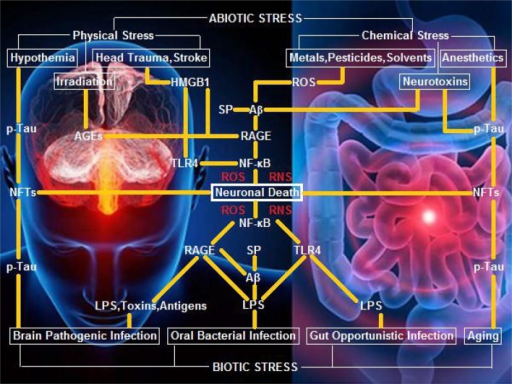 © Copyright Policy
License
getmorefigures.php?uid=PMC5120111&req=5
Mentions: Our opinion on biotic/abiotic stress-triggered AD links the various stressors to the genesis and progression of AD through a neuroinflammatory signaling cascade, which initiates nuclear factor κB (NF-κB) and induces pro-inflammatory cytokines that evoke potent ROS/RNS burst for neuronal/glial killing. To trigger AD, biotic stressors convey the external biological signals via lipopolysaccharide (LPS)-toll-like receptor 4 (TLR4), LPS-receptor of advanced glycation end products (RAGE), and amyloid β peptide (Aβ)/senile plaques (SP)-RAGE interactions (Yan et al., 1996; Yamamoto et al., 2011). Alternatively, abiotic stressors transduce the external non-biological signals via AGEs-RAGE, high-mobility group protein B1 (HMGB1)-RAGE, and Aβ/SP-RAGE interactions (Mazarati et al., 2011; Horst et al., 2016). Specifically, hypothermia, as well as anesthesia and aging that induce hypothermia, can execute a neurotoxic role to kill neurons and glia via neurofibrillary tangles (NFTs) derived from hyperphosphorylated Tau (p-Tau) (Carrettiero et al., 2015; Figure 1).