Melatonin and Nitrones As Potential Therapeutic Agents for Stroke
ABSTRACT
---
Stroke is a disease of aging affecting millions of people worldwide, and recombinant tissue-type plasminogen activator (r-tPA) is the only treatment approved. However, r-tPA has a low therapeutic window and secondary effects which limit its beneficial outcome, urging thus the search for new more efficient therapies. Among them, neuroprotection based on melatonin or nitrones, as free radical traps, have arisen as drug candidates due to their strong antioxidant power. In this Perspective article, an update on the specific results of the melatonin and several new nitrones are presented.
No MeSH data available.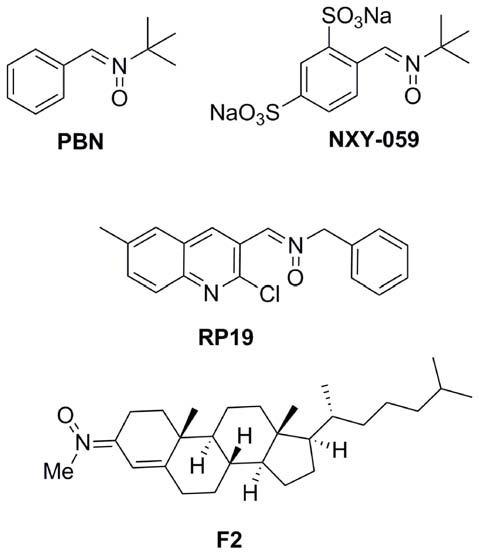 © Copyright Policy
License
getmorefigures.php?uid=PMC5120103&req=5
Mentions: Based on the understanding of the biochemical processes involved in the formation and development of a stroke, number of products have been developed targeting the different ischemic and reperfusion events. Despite the promising initial results, neuroprotection drugs for stroke have failed in advanced clinical phases, and consequently, no neuroprotective agent has been approved by the FDA for stroke therapy. However, neuroprotection is still a choice, and oxidative stress, a suitable biological target. In this context, antioxidants such as N-t-butylphenylnitrone (PBN; Figure 1; Novelli et al., 1986) and NXY-059 (Figure 1; Dehouck et al., 2002), have attracted the interest of a number of laboratories, resulting in therapeutic candidates for cancer (Inoue et al., 2007; Floyd et al., 2008, 2010, 2011; Costa et al., 2015), neurodegenerative disorders (Floyd et al., 2000), hearing loss (Floyd et al., 2008) and stroke (Doggrell, 2006; Floyd et al., 2008). NXY-059 (Figure 1) (Kuroda et al., 1999) is a well-known free radical scavenger with good neuroprotective profile in rat models of transient and permanent focal ischemia, and stroke model in rodents, which has been launched several times in different program in advanced clinical studies, although with limited success (Macleod et al., 2008). In fact and in addition, tert-butylnitrones, such as NXY-059, are known to afford t-butylhydroxylamines as powerful radical scavengers, after hydrolysis, that further could be oxidized to 2-methyl-2-nitrosopropane which then may synthesize NO radical, the source and origin of the neuroprotection, as it has been already reported for NO donors (Godínez-Rubí et al., 2013). Recently reported new developments have highlighted the not previously described and powerful neuroprotective effect shown by new PBN derivatives bearing N-aryl substituents on human neuroblastoma cells, under induced in vitro experimental oxidative stress (Matias et al., 2016).