Production, Characterization, and Application of Bacillus licheniformis W16 Biosurfactant in Enhancing Oil Recovery
ABSTRACT
---
The biosurfactant production by Bacillus licheniformis W16 and evaluation of biosurfactant based enhanced oil recovery (EOR) using core-flood under reservoir conditions were investigated. Previously reported nine different production media were screened for biosurfactant production, and two were further optimized with different carbon sources (glucose, sucrose, starch, cane molasses, or date molasses), as well as the strain was screened for biosurfactant production during the growth in different media. The biosurfactant reduced the surface tension and interfacial tension to 24.33 ± 0.57 mN m−1 and 2.47 ± 0.32 mN m−1 respectively within 72 h, at 40°C, and also altered the wettability of a hydrophobic surface by changing the contact angle from 55.67 ± 1.6 to 19.54°± 0.96°. The critical micelle dilution values of 4X were observed. The biosurfactants were characterized by different analytical techniques and identified as lipopeptide, similar to lichenysin-A. The biosurfactant was stable over wide range of extreme environmental conditions. The core flood experiments showed that the biosurfactant was able to enhance the oil recovery by 24–26% over residual oil saturation (Sor). The results highlight the potential application of lipopeptide biosurfactant in wettability alteration and microbial EOR processes.
No MeSH data available.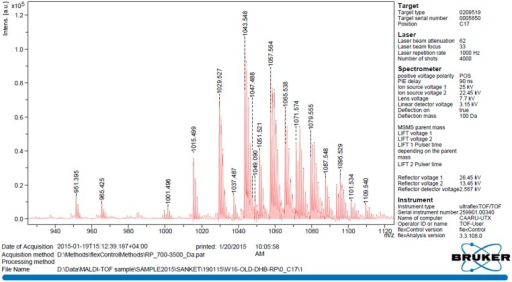 © Copyright Policy
License
getmorefigures.php?uid=PMC5120096&req=5
Mentions: MALDI-TOF mass spectrum of the biosurfactant produced by B. licheniformis W16 is shown in Figure 5. The observed main peaks were similar to the molecular masses of known lipopeptides – lichensyin and their homologs (Horowitz and Griffin, 1991; Mikkola et al., 2000; Li et al., 2008; Nerurkar, 2010; Madslien et al., 2013; Pereira et al., 2013; Zhang et al., 2014). There were a total of 12 main peaks with the m/z value as 1015.5–1087.5. Considering the molecular mass of different homologs of lichenysin (C12–C16), these peaks were identified as protonated ions [M + H] +m/z 1049.1; sodium adduct ions [M + Na] + with m/z of 1015.5, 1029.5, 1043.5, and 1057.6; sodium adducts [M-H + 2Na]+ with m/z of 1051.5, 1065.5, and 1079.5; potassium adducts [M + K] + with m/z of 1087.5. MALDI-TOF analysis of W16 biosurfactant showed similarity with lichenysin-A, produced by B. licheniformis strains (Grangemard et al., 1999; Mikkola et al., 2000; Li et al., 2008; Zhang et al., 2014; Joshi et al., 2015). They have reported that lichenysin – A is a cyclic heptalipopeptide having a small peptide (Gln, Leu, Leu, Val, Asp, Leu, and Ile) linked to 3-hydroxy fatty acid residue with amide (Gln) and lactone (Ile) bonds forming a cyclic structure, with main fatty acids are 3-hydroxylated tri, tetra, penta, and hexadecanoic acids.