Production, Characterization, and Application of Bacillus licheniformis W16 Biosurfactant in Enhancing Oil Recovery
ABSTRACT
---
The biosurfactant production by Bacillus licheniformis W16 and evaluation of biosurfactant based enhanced oil recovery (EOR) using core-flood under reservoir conditions were investigated. Previously reported nine different production media were screened for biosurfactant production, and two were further optimized with different carbon sources (glucose, sucrose, starch, cane molasses, or date molasses), as well as the strain was screened for biosurfactant production during the growth in different media. The biosurfactant reduced the surface tension and interfacial tension to 24.33 ± 0.57 mN m−1 and 2.47 ± 0.32 mN m−1 respectively within 72 h, at 40°C, and also altered the wettability of a hydrophobic surface by changing the contact angle from 55.67 ± 1.6 to 19.54°± 0.96°. The critical micelle dilution values of 4X were observed. The biosurfactants were characterized by different analytical techniques and identified as lipopeptide, similar to lichenysin-A. The biosurfactant was stable over wide range of extreme environmental conditions. The core flood experiments showed that the biosurfactant was able to enhance the oil recovery by 24–26% over residual oil saturation (Sor). The results highlight the potential application of lipopeptide biosurfactant in wettability alteration and microbial EOR processes.
No MeSH data available.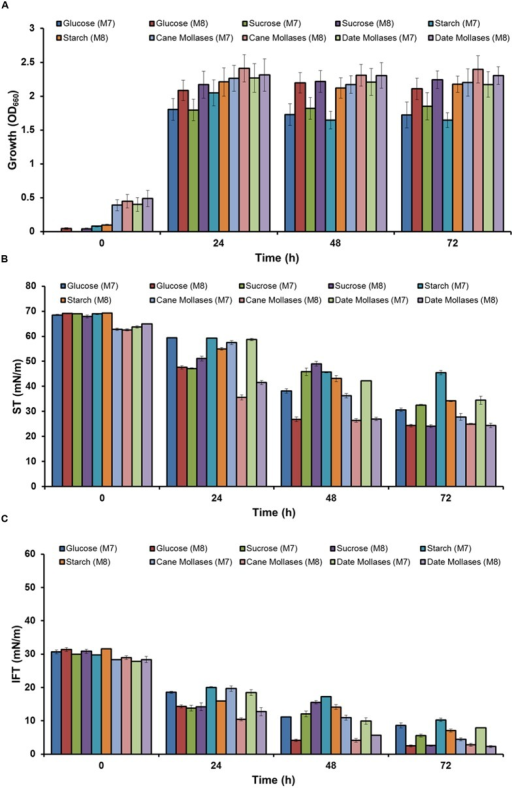 © Copyright Policy
License
getmorefigures.php?uid=PMC5120096&req=5
Mentions: As media M7 and M8 showed better growth and biosurfactant production, both media were selected for further screening of different types of carbohydrates as a carbon sources – glucose, sucrose, starch, cane moleasses, or date molasses. Better growth was observed in M8 media as compared to M7, in all five carbon sources, and highest growth (OD660 – 2.3–2.4) was observed in M8 media containing cane or date molasses (Figure 1A). It was observed that in all media ST was reduced to <35 mN m−1, from 62 to 70 mN m−1, within 72 h (Figure 1B), except in starch containing Media M7, where higher ST was observed (45.42 ± 0.88 mN m−1). Similar trend was observed for IFT also, where starch containing media M7 had higher IFT (10.27 ± 0.52) as compared to all other conditions (Figure 1C). The lower ST and IFT were observed in M8 media containing glucose, cane molasses or date molasses, and glucose containing media showed the lowest ST and IFT values of 24.33 ± 0.31 mN m−1 and 2.47 ± 0.32 mN m−1 respectively. These observed values of ST and IFT are in accordance with several other reports by researchers for biosurfactant production by Bacillus species (Joshi et al., 2008a; Al-Bahry et al., 2013; Chandankere et al., 2013; Pereira et al., 2013). In this study, it was observed that isolate B. licheniformis W16 produced a potent biosurfactant using either glucose or cane molasses as a carbon source. Glucose based media M8 was used for biosurfactant production and further studies, as it gave better results in ST and IFT reduction.