The Contribution of Mathematical Modeling to Understanding Dynamic Aspects of Rumen Metabolism
ABSTRACT
---
All mechanistic rumen models cover the main drivers of variation in rumen function, which are feed intake, the differences between feedstuffs and feeds in their intrinsic rumen degradation characteristics, and fractional outflow rate of fluid and particulate matter. Dynamic modeling approaches are best suited to the prediction of more nuanced responses in rumen metabolism, and represent the dynamics of the interactions between substrates and micro-organisms and inter-microbial interactions. The concepts of dynamics are discussed for the case of rumen starch digestion as influenced by starch intake rate and frequency of feed intake, and for the case of fermentation of fiber in the large intestine. Adding representations of new functional classes of micro-organisms (i.e., with new characteristics from the perspective of whole rumen function) in rumen models only delivers new insights if complemented by the dynamics of their interactions with other functional classes. Rumen fermentation conditions have to be represented due to their profound impact on the dynamics of substrate degradation and microbial metabolism. Although the importance of rumen pH is generally acknowledged, more emphasis is needed on predicting its variation as well as variation in the processes that underlie rumen fluid dynamics. The rumen wall has an important role in adapting to rapid changes in the rumen environment, clearing of volatile fatty acids (VFA), and maintaining rumen pH within limits. Dynamics of rumen wall epithelia and their role in VFA absorption needs to be better represented in models that aim to predict rumen responses across nutritional or physiological states. For a detailed prediction of rumen N balance there is merit in a dynamic modeling approach compared to the static approaches adopted in current protein evaluation systems. Improvement is needed on previous attempts to predict rumen VFA profiles, and this should be pursued by introducing factors that relate more to microbial metabolism. For rumen model construction, data on rumen microbiomes are preferably coupled with knowledge consolidated in rumen models instead of relying on correlations with rather general aspects of treatment or animal. This helps to prevent the disregard of basic principles and underlying mechanisms of whole rumen function.
No MeSH data available.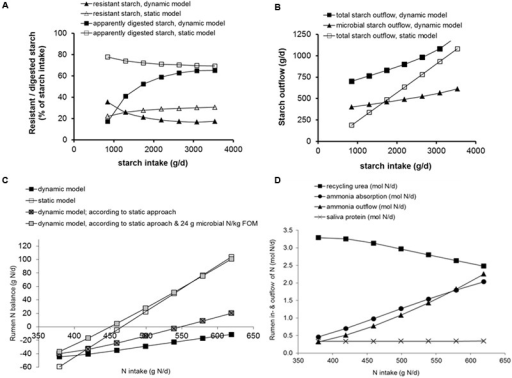 © Copyright Policy
License
getmorefigures.php?uid=PMC5120094&req=5
Mentions: Reasons to distinguish functional classes of micro-organisms in rumen models are differences in the type of substrate fermented (type of carbohydrate in particular), the particular rumen niche they occupy with its own physical-chemical characteristics, e.g., retention time and acidity, and the specific role they exert that is related to the modeling aim; e.g., bacterial predation by protozoa and storage of polysaccharides (Dijkstra et al., 1992; Dijkstra, 1994; Figures 4A,B) and rumen lactate metabolism (Mills et al., 2014). Mechanistic rumen models distinguish fibrolytic and amylolytic microbial activity because such a classification is well documented and in line with the distinct carbohydrate substrates for which intrinsic degradation characteristics are available. This is exclusively a distinction based on type of substrate and far less inspired by rumen-ecological arguments which would require representation of other types of variation. Such a representation may include variation in specific niches, diversifying the current distinction between particulate and fluid associated micro-organisms. It may include variation in specific rumen fermentation conditions, introducing intra-rumen compartmentation or gradients with respect to substrate availability and concentration of fermentation end-products. Or it may include variation in some unique role or metabolic state that rumen micro-organisms can achieve. Representing the latter may be the introduction into the model of metabolism of specific nutrients or metabolites or the identification of different metabolic states or responses of micro-organisms. These different states or responses might be due to a changed energy requirement for maintenance functions (Baldwin, 1995), or to regulatory mechanisms driven by changed availability of reduced co-factors (Van Lingen et al., 2016). With respect to representing the dynamics of inter-microbial relationships between various classes of micro-organisms, amongst the best documented and detailed models are the rumen protozoa metabolism model of Dijkstra (1994) and the rumen lactate metabolism model of Mills et al. (2014). Some other additions to rumen models can be considered as model parameterization rather than addition of a functional class of micro-organisms if they do not include representation of the dynamics of this functional class and its inter-relationships with other classes. For example, Nagorcka et al. (2000) introduced a consensus stoichiometry of VFA production derived from microbiological studies on individual bacteria genera and types of protozoa into the model of Dijkstra (1994), but no new dynamics were introduced. They used general microbiological data and not in vivo observations to describe the profile of rumen VFA in relation to substrates degraded. Whether the extra detail introduced by such a consensus outweighs the benefit of an empirical approach based on in vivo measurements in the target animal (Bannink et al., 2006b; Ghimire et al., 2014) remains unclear. Other aspects that have been incorporated in the various rumen models reported in literature include effective fiber, peptides, distribution of particles, fats and fatty acids, and sulfate (review Tedeschi et al., 2014), which have their own merit when aiming to explain rumen response to related factors.