The Contribution of Mathematical Modeling to Understanding Dynamic Aspects of Rumen Metabolism
ABSTRACT
---
All mechanistic rumen models cover the main drivers of variation in rumen function, which are feed intake, the differences between feedstuffs and feeds in their intrinsic rumen degradation characteristics, and fractional outflow rate of fluid and particulate matter. Dynamic modeling approaches are best suited to the prediction of more nuanced responses in rumen metabolism, and represent the dynamics of the interactions between substrates and micro-organisms and inter-microbial interactions. The concepts of dynamics are discussed for the case of rumen starch digestion as influenced by starch intake rate and frequency of feed intake, and for the case of fermentation of fiber in the large intestine. Adding representations of new functional classes of micro-organisms (i.e., with new characteristics from the perspective of whole rumen function) in rumen models only delivers new insights if complemented by the dynamics of their interactions with other functional classes. Rumen fermentation conditions have to be represented due to their profound impact on the dynamics of substrate degradation and microbial metabolism. Although the importance of rumen pH is generally acknowledged, more emphasis is needed on predicting its variation as well as variation in the processes that underlie rumen fluid dynamics. The rumen wall has an important role in adapting to rapid changes in the rumen environment, clearing of volatile fatty acids (VFA), and maintaining rumen pH within limits. Dynamics of rumen wall epithelia and their role in VFA absorption needs to be better represented in models that aim to predict rumen responses across nutritional or physiological states. For a detailed prediction of rumen N balance there is merit in a dynamic modeling approach compared to the static approaches adopted in current protein evaluation systems. Improvement is needed on previous attempts to predict rumen VFA profiles, and this should be pursued by introducing factors that relate more to microbial metabolism. For rumen model construction, data on rumen microbiomes are preferably coupled with knowledge consolidated in rumen models instead of relying on correlations with rather general aspects of treatment or animal. This helps to prevent the disregard of basic principles and underlying mechanisms of whole rumen function.
No MeSH data available.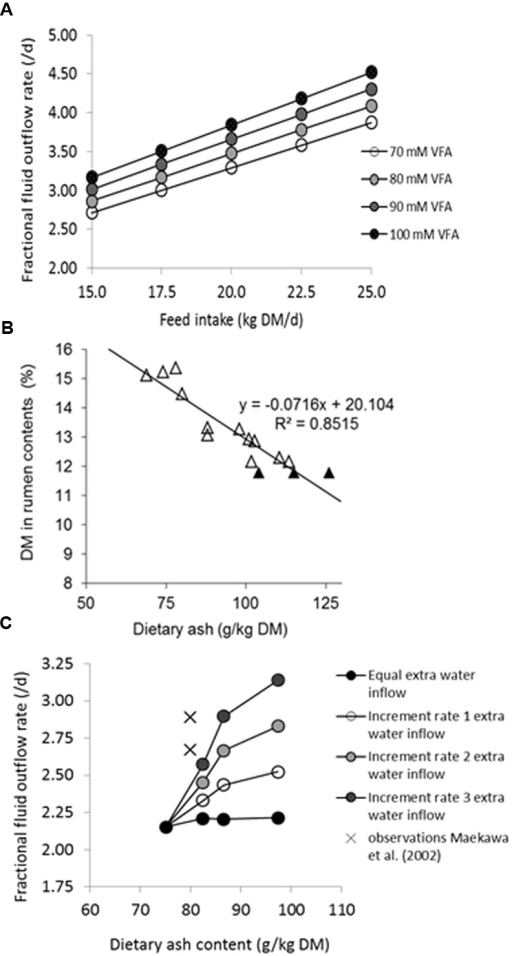 © Copyright Policy
License
getmorefigures.php?uid=PMC5120094&req=5
Mentions: The stimulatory effect of feeding frequency on rumen digestibility observed by Le Liboux and Peyraud (1999) contrasted with a consistently negative quantitative effect observed for digestibility of the feed determined at the level of fecal excretion (i.e., fecal digestibility). This may be explained by less substrate inflow and hence a smaller microbial population in the large intestine, resulting in a reduction in the contribution of the large intestine to OM and NDF digestion which was larger in size than the increased contribution by the rumen. Unless caused by bias introduced with measurement methodology, such effects can also be seen as illustrative of the previous discussion on the dynamics involved with interactions between substrate and micro-organisms in the rumen. This warrants fermentation in the large intestine to also be represented in a dynamic model. Therefore, we introduced a dependency of the fractional outflow rate of digesta on VFA concentration, assuming an increase of 10 mM is associated with a 5.6% increase of fractional outflow rate up to a maximum of 80 mM (taken from the results of López et al., 2003), into the dynamic model of the large intestine described by Mills et al. (2001). The consequence of this model adaptation (Figure 3A) was a marked decline in predicted fibrolytic activity with an increased inflow of rapidly fermentable carbohydrates into the large intestine. A similar response of a declined contribution of the large intestine to NDF digestion with an increased ileal starch flow has been reported in several studies (Knowlton et al., 1998; Yang and Beauchemin, 2005; Van Vuuren et al., 2010). Although the rather theoretical model simulations require confirmation, these in vivo results illustrate the dynamic aspects of how substrate availability and activity of amylolytic and fibrolytic micro-organisms impact NDF digestion beyond the rumen, when feeding large amounts of starch relatively resistant to rumen degradation. Also, the importance of addressing these dynamic aspects was highlighted in a recent modeling study, where Ellis et al. (2014) evaluated predictions of digestion and enteric methane (CH4) emissions in beef cattle against in vivo observations. For realistic predictions they first had to make changes to the rumen and large intestinal model of Mills et al. (2001), which was developed for lactating cows, to accommodate the specific enteric conditions observed in beef cattle fed low-roughage diets. The dynamics of digesta volume and the fractional outflow rates for the rumen and large intestine had to be modified, as well as the fractional outflow rate of rumen protozoa, and large intestinal fibrolytic activity, to achieve realistic simulations of fibrolytic activity in both the rumen and large intestine. Gregorini et al. (2015) recently revisited representation of digesta outflow in the mechanistic model of Baldwin (1995), addressing effects of osmolality of rumen fluid (calculated from solutes including VFA) on rumen fluid dynamics.