Antibiotic Resistance in the Food Chain: A Developing Country-Perspective
ABSTRACT
---
Antibiotics are now "endangered species" facing extinction due to the worldwide emergence of antibiotic resistance (ABR). Food animals are considered as key reservoirs of antibiotic-resistant bacteria with the use of antibiotics in the food production industry having contributed to the actual global challenge of ABR. There are no geographic boundaries to impede the worldwide spread of ABR. If preventive and containment measures are not applied locally, nationally and regionally, the limited interventions in one country, continent and for instance, in the developing world, could compromise the efficacy and endanger ABR containment policies implemented in other parts of the world, the best-managed high-resource countries included. Multifaceted, comprehensive, and integrated measures complying with the One Health approach are imperative to ensure food safety and security, effectively combat infectious diseases, curb the emergence and spread of ABR, and preserve the efficacy of antibiotics for future generations. Countries should follow the World Health Organization, World Organization for Animal Health, and the Food and Agriculture Organization of the United Nations recommendations to implement national action plans encompassing human, (food) animal, and environmental sectors to improve policies, interventions and activities that address the prevention and containment of ABR from farm-to-fork. This review covers (i) the origin of antibiotic resistance, (ii) pathways by which bacteria spread to humans from farm-to-fork, (iii) differences in levels of antibiotic resistance between developed and developing countries, and (iv) prevention and containment measures of antibiotic resistance in the food chain.
No MeSH data available.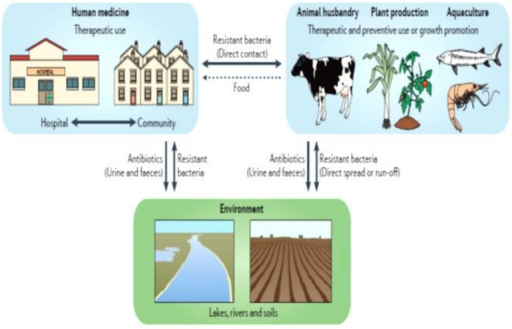 © Copyright Policy
License
getmorefigures.php?uid=PMC5120092&req=5
Mentions: In addition, the human population may be exposed indirectly to antibiotic-resistant bacteria and ARGs via contact with or consumption of contaminated food products (e.g., meat, eggs, milk, and dairy products). This indirect transmission through the food chain is a far-reaching and more complex pathway (Figure 2). Recently, numerous reports have described the presence of large quantities of antibiotic-resistant bacteria and ARGs in various food products (ready-to-eat meat, cooked meat, and bulk milk) from various animal sources, such as cattle, poultry, swine, goat, and sheep, and from different stages of food production (Price et al., 2012; Coetzee et al., 2016; Liu et al., 2016). Several studies have further identified similar or clonally related antibiotic-resistant bacteria and ARGs of animal origin in human populations without occupational exposure, providing likely evidence for transfer following the consumption and/or handling of food (Acar and Moulin, 2006; Marshall and Levy, 2011). Farmers, abattoir workers and food handlers as well as consumers are thus the large number of people directly at risk of acquiring antibiotic-resistant bacteria via the food chain. In the developing world, where biosecurity and food safety measures are limited along the farm-to-fork continuum and where humans interact intimately with animals and the environment, the public health risk is likely to be associated with both the direct and indirect transmission of antibiotic-resistant bacteria and ARGs (Padungtod et al., 2008). In contrast, in developed countries, the indirect contamination seems to be more prevalent as antibiotic-resistant bacteria and ARGs emerging on-farms, are maintained throughout the food production and contaminated food products reach the end consumers to create foodborne infections (EFSA and ECDC, 2015).