The piggyBac -Based Gene Delivery System Can Confer Successful Production of Cloned Porcine Blastocysts with Multigene Constructs
ABSTRACT
---
The introduction of multigene constructs into single cells is important for improving the performance of domestic animals, as well as understanding basic biological processes. In particular, multigene constructs allow the engineering and integration of multiple genes related to xenotransplantation into the porcine genome. The piggyBac (PB) transposon system allows multiple genes to be stably integrated into target genomes through a single transfection event. However, to our knowledge, no attempt to introduce multiple genes into a porcine genome has been made using this system. In this study, we simultaneously introduced seven transposons into a single porcine embryonic fibroblast (PEF). PEFs were transfected with seven transposons containing genes for five drug resistance proteins and two (red and green) fluorescent proteins, together with a PB transposase expression vector, pTrans (experimental group). The above seven transposons (without pTrans) were transfected concomitantly (control group). Selection of these transfected cells in the presence of multiple selection drugs resulted in the survival of several clones derived from the experimental group, but not from the control. PCR analysis demonstrated that approximately 90% (12/13 tested) of the surviving clones possessed all of the introduced transposons. Splinkerette PCR demonstrated that the transposons were inserted through the TTAA target sites of PB. Somatic cell nuclear transfer (SCNT) using a PEF clone with multigene constructs demonstrated successful production of cloned blastocysts expressing both red and green fluorescence. These results indicate the feasibility of this PB-mediated method for simultaneous transfer of multigene constructs into the porcine cell genome, which is useful for production of cloned transgenic pigs expressing multiple transgenes.
No MeSH data available.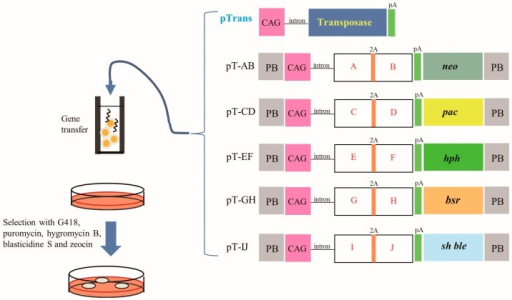 © Copyright Policy
License
getmorefigures.php?uid=PMC5037703&req=5
Mentions: There are several ways to introduce multiple gene constructs into the genome of domestic cells. One-step introduction of a single gene construct is one promising approach for obtaining cells with multiple genes of interest; in this approach, multiple genes are linked via internal ribosomal entry site (IRES) elements [24,25,26] or self-cleaving 2A peptide [27,28,29], and their expression is controlled by a single promoter. In fact, Carey et al. [30] succeeded in producing iPS cells using a single polycistronic vector carrying genes for 4 reprogramming factors. However, this method requires the assembly of expression units into a single vector, which is difficult to achieve and labor intensive. Sequential introduction of gene constructs is another way to obtain cells with multiple genes of interest, as shown in our previous work [23]. However, the repeated transfections required in this method cause cells to become refractory to transfection, leading to reduced transfection efficiency in later steps. Furthermore, this method requires a long time to acquire genetically modified cells with the desired constructs. One-step simultaneous introduction of multiple gene constructs appears to be a more realistic method, since it does not require a long time to select transfectants carrying multiple constructs. As shown in this study, simultaneous introduction of seven multigene gene constructs into a porcine cell can be achieved. Theoretically, it is possible to obtain a cell with at least 10 target genes in its genome, if five constructs carrying drug resistance gene expression units and an expression unit that confers two target genes using the 2A system are introduced into a cell at once along with the transposase expression plasmid, as depicted in Figure 4. However, the co-transfection of multiple single vectors has some drawbacks. It depends on the random integration of transgenes, which may lead to occasional transgene silencing and insertional mutagenesis. Notably, according to Wilson et al. [31], 67% of PB-derived transposon insertions occur in predicted transcriptional units, with 97% of these occurring within introns. Therefore, they can be considered useful as safe gene therapeutic reagents [32]. If our SCNT-derived embryos carrying seven transposons are allowed to develop to the full-term, the delivered cloned piglets should be a unique model to assess the safety problems associated with PB-mediated gene delivery.