Antimicrobial Resistance Profile of Planktonic and Biofilm Cells of Staphylococcus aureus and Coagulase-Negative Staphylococci
ABSTRACT
---
The objective of the present study was to determine the antimicrobial resistance profile of planktonic and biofilm cells of Staphylococcus aureus and coagulase-negative staphylococci (CoNS). Two hundred Staphylococcus spp. strains were studied, including 50 S. aureus and 150 CoNS strains (50 S. epidermidis, 20 S. haemolyticus, 20 S. warneri, 20 S. hominis, 20 S. lugdunensis, and 20 S. saprophyticus). Biofilm formation was investigated by adherence to polystyrene plates. Positive strains were submitted to the broth microdilution method to determine the minimum inhibitory concentration (MIC) for planktonic and biofilm cells and the minimal bactericidal concentration for biofilm cells (MBCB). Forty-nine Staphylococcus spp. strains (14 S. aureus, 13 S. epidermidis, 13 S. saprophyticus, 3 S. haemolyticus, 1 S. hominis, 3 S. warneri, and 2 S. lugdunensis) were biofilm producers. These isolates were evaluated regarding their resistance profile. Determination of planktonic cell MIC identified three (21.4%) S. aureus strains that were resistant to oxacillin and six (42.8%) that were resistant to erythromycin. Among the CoNS, 31 (88.6%) strains were resistant to oxacillin, 14 (40%) to erythromycin, 18 (51.4%) to gentamicin, and 8 (22.8%) to sulfamethoxazole/trimethoprim. None of the planktonic isolates were resistant to vancomycin or linezolid. MICs were 2-, 4-, 8-, and up to 16-fold higher for biofilm cells than for planktonic cells. This observation was more common for vancomycin and erythromycin. The MBCB ranged from 8 to >256 µg/mL for oxacillin, 128 to >128 µg/mL for vancomycin, 256 to >256 µg/mL for erythromycin and gentamicin, >64 µg/mL for linezolid, and 32/608 to >32/608 µg/mL for sulfamethoxazole/trimethoprim. The results showed considerably higher MICs for S. aureus and CoNS biofilm cells compared to planktonic cells. Analysis of MBCM confirmed that even high concentrations of vancomycin were unable to eliminate the biofilms of S. aureus and CoNS species. Linezolid was the most effective drug in inhibiting staphylococci in the biofilm, without an increase in the MIC, when compared to planktonic cells. None of the isolates were resistant to this drug.
No MeSH data available.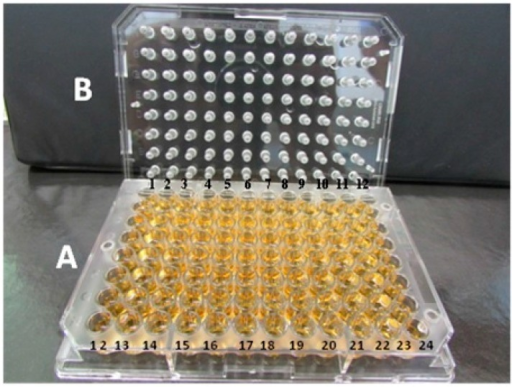 © Copyright Policy
License
getmorefigures.php?uid=PMC5037702&req=5
Mentions: The minimal bactericidal concentrations for biofilm cells (MBCB) were determined using an adaptation of a previously published method [19]. The isolates cultured for 22 h in Trypticase Soy Broth (TSB) plus 2% glucose were adjusted to a 1.0 McFarland standard (corresponding to 1 to 2 × 108 CFU/mL) and diluted 1:50 in TSB-2% glucose. Aliquots (200 µL) were transferred to 96-well flat bottom plates (Nunclon Delta, Nunc, Roskilde, Denmark) covered with a 96-pin lid (Nunc™-ImmunoTSP; Nunc) and incubated for 24 h to permit the formation of a biofilm on the pins (Figure 2). For removal of non-adherent cells, the films formed on the pins were washed by immersion in a series of three 96-well plates filled with 200 µL sterile phosphate-buffered saline (PBS). The lid with the pins was placed on flat-bottom plate prepared for susceptibility testing by broth microdilution. The wells contained 200 µL of the antibiotic diluted in cation-supplemented Mueller–Hinton broth (CAMHB; 100 mg/mL calcium and 50 mg/mL magnesium) or 200 µL CAMHB without the drug for the control of positive growth. The biofilms were exposed to the antibiotics for 24 h. After this period, the lid with the pins was removed, washed three times in PBS as described above, and placed in 96 wells containing 200 µL TSB-2% glucose. On that occasion, before discarding the plate with the antibiotics, growth was evaluated by the naked eye to determine the MIC of the antibiotics for biofilm cells. The biofilm cells formed on the pins were dislodged by sonication (Hielscher Ultrasound Technology, Teltow, Germany, UIP250MTP) at 40 kHz for 5 min in 96-well plates containing fresh culture medium for recovery of the cells. The lid with the pins was discarded and replaced with a normal lid and the optical density was measured in a plate reader equipped with a 600 nm filter. Wells containing pure TSB-2% glucose (without inoculum) were used as spectrophotometric controls of sterility. The plate was incubated for 24 h and a second measurement of optical density was obtained at 600 nm. The MBCB was defined as the lowest concentration of the drug that resulted in a 10% change in optical density at 600 nm compared to the reading obtained for the positive control growth between readings performed before incubation and after 24 h [28].