Chemotactic Activity of Cyclophilin A in the Skin Mucus of Yellow Catfish ( Pelteobagrus fulvidraco ) and Its Active Site for Chemotaxis
ABSTRACT
---
Fish skin mucus is a dynamic barrier for invading pathogens with a variety of anti-microbial enzymes, including cyclophilin A (CypA), a multi-functional protein with peptidyl-prolyl cis/trans isomerase (PPIase) activity. Beside various other immunological functions, CypA induces leucocytes migration in vitro in teleost. In the current study, we have discovered several novel immune-relevant proteins in yellow catfish skin mucus by mass spectrometry (MS). The CypA present among them was further detected by Western blot. Moreover, the CypA present in the skin mucus displayed strong chemotactic activity for yellow catfish leucocytes. Interestingly, asparagine (like arginine in mammals) at position 69 was the critical site in yellow catfish CypA involved in leucocyte attraction. These novel efforts do not only highlight the enzymatic texture of skin mucus, but signify CypA to be targeted for anti-inflammatory therapeutics.
No MeSH data available.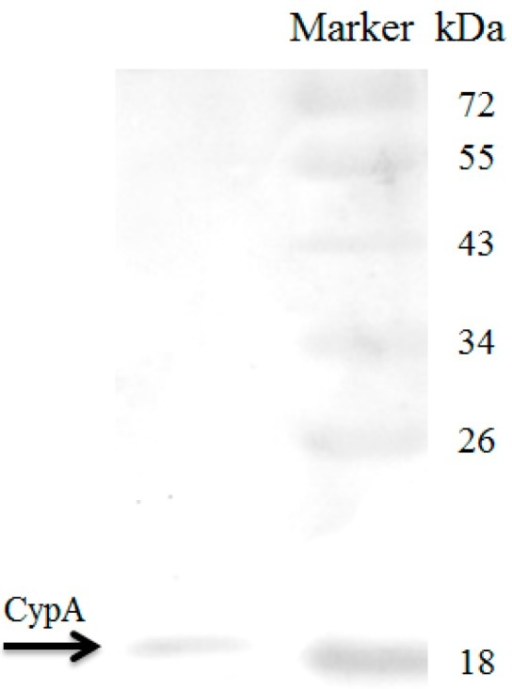 © Copyright Policy
License
getmorefigures.php?uid=PMC5037701&req=5
Mentions: The mass spectrometric analysis identified and characterized the immune-relevant proteins in the skin mucus as interferon-induced GTP-binding protein Mx1, vasa short form, β-enolase, recombination activating protein 1, lsm12-like protein A and CypA. These peptides have shown hits to expressed sequence tags (EST)-bases, and their theoretical molecular masses (Da) were 72,882, 70,798, 47,773, 46,987, 21,644 and 17,724, respectively. All of the proteins are presented with their respective species and accession number to which they matched with the annotated score of 30, 31, 36, 28, 31 and 32, respectively (Table 1). The matching amino acid sequences, reference numbers and percent identity are shown in supplementary materials (Table S1). CypA was detected by Western blot in the skin mucus with a precise band size as that in other body tissues and is shown in Figure 1.