Cleome rutidosperma and Euphorbia thymifolia Suppress Inflammatory Response via Upregulation of Phase II Enzymes and Modulation of NF- κ B and JNK Activation in LPS-Stimulated BV2 Microglia
ABSTRACT
---
Cleome rutidosperma DC. and Euphorbia thymifolia L. are herbal medicines used in traditional Indian and Chinese medicine to treat various illnesses. Reports document that they have antioxidant and anti-inflammatory activities; nonetheless, the molecular mechanisms involved in their anti-inflammatory actions have not yet been elucidated. The anti-neuroinflammatory activities and underlying mechanisms of ethanol extracts of Cleome rutidosperma (CR) and Euphorbia thymifolia (ET) were studied using lipopolysaccharide (LPS)-stimulated microglial cell line BV2. The morphology changes and production of pro-inflammatory mediators were assayed. Gene expression of inflammatory genes such as inducible nitric oxide synthase (iNOS), cyclooxygenase (COX)-2, interleukin (IL)-1β, and CC chemokine ligand (CCL)-2, as well as phase II enzymes such as heme oxygenase (HO)-1, the modifier subunit of glutamate cysteine ligase (GCLM) and NAD(P)H quinone dehydrogenase 1 (NQO1), were further investigated using reverse transcription quantitative-PCR (RT-Q-PCR) and Western blotting. The effects of CR and ET on mitogen activated protein kinases (MAPKs) and nuclear factor (NF)-κB signaling pathways were examined using Western blotting and specific inhibitors. CR and ET suppressed BV2 activation, down-regulated iNOS and COX-2 expression and inhibited nitric oxide (NO) overproduction without affecting cell viability. They reduced LPS-mediated tumor necrosis factor (TNF) and IL-6 production, attenuated IL-1β and CCL2 expression, but upregulated HO-1, GCLM and NQO1 expression. They also inhibited p65 NF-κB phosphorylation and modulated Jun-N terminal kinase (JNK) activation in BV2 cells. SP600125, the JNK inhibitor, significantly augmented the anti-IL-6 activity of ET. NF-κB inhibitor, Bay 11-7082, enhanced the anti-IL-6 effects of both CR and ET. Znpp, a competitive inhibitor of HO-1, attenuated the anti-NO effects of CR and ET. Our results show that CR and ET exhibit anti-neuroinflammatory activities by inhibiting pro-inflammatory mediator expression and production, upregulating HO-1, GCLM and NQO1, blocking NF-κB and modulating JNK signaling pathways. They may offer therapeutic potential for suppressing overactivated microglia and alleviating neurodegeneration.
No MeSH data available.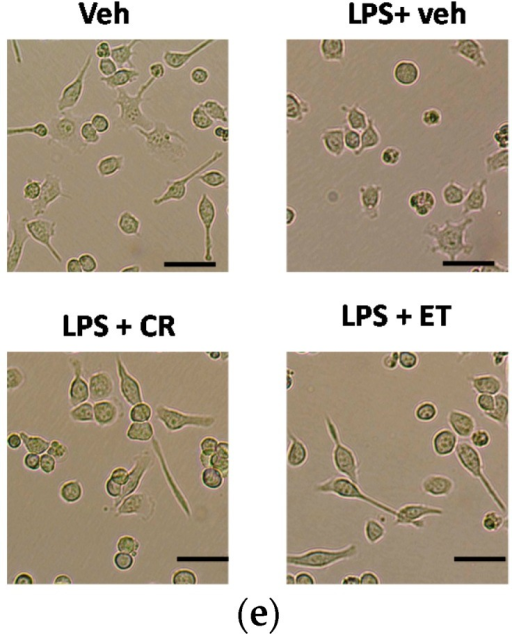 © Copyright Policy
License
getmorefigures.php?uid=PMC5037699&req=5
Mentions: To test whether CR and ET can function as inhibitors for NO release, BV2 cells were pre-treated with vehicle (0.1% ethanol), CR, or ET for 30 min followed by LPS (10 or 100 ng/mL) insult for a further 20 h. Polymyxin B (PMB, 10 µg/mL), a cyclic cationic polypeptide antibiotic, which binds to lipid A, served as a control LPS inhibitor. To set the optimal concentrations of CR and ET, we started with various concentrations of CR and ET ranging from 0.025–0.2 mg/mL with 1:2 serial dilutions. Our preliminary data showed that CR and ET at 0.025 mg/mL did not exert anti-NO activity significantly, while at 0.2 mg/mL caused significant cell death. As a result, 0.05 and 0.1 mg/mL of CR and ET were chosen for the experiments. Figure 1a,b shows that 10 and 100 ng/mL LPS plus vehicle stimulated NO production from basal levels (0.7–1.3 µM) to 25.0 ± 0.4 and 33.0 ± 0.8 µM, respectively. CR and ET (0.05–0.1 mg/mL) dose-dependently decreased 10 ng/mL LPS-induced NO production by 72%–93% and 43%–75%, respectively (p < 0.01). Slightly weaker inhibition (67%–93% for CR and 36%–57% for ET) was noted against 100 ng/mL LPS (p < 0.01). In comparison, PMB (10 µg/mL) almost completely inhibited 10 and 100 ng/mL LPS-mediated NO production.