Detection of Natural Resistance-Associated Substitutions by Ion Semiconductor Technology in HCV1b Positive, Direct-Acting Antiviral Agents-Na ï ve Patients
ABSTRACT
---
Naturally occurring resistance-associated substitutions (RASs) can negatively impact the response to direct-acting antivirals (DAAs) agents-based therapies for hepatitis C virus (HCV) infection. Herein, we set out to characterize the RASs in the HCV1b genome from serum samples of DAA-naïve patients in the context of the SINERGIE (South Italian Network for Rational Guidelines and International Epidemiology, 2014) project. We deep-sequenced the NS3/4A protease region of the viral population using the Ion Torrent Personal Genome Machine, and patient-specific majority rule consensus sequence summaries were constructed with a combination of freely available next generation sequencing data analysis software. We detected NS3/4A protease major and minor variants associated with resistance to boceprevir (V36L), telaprevir (V36L, I132V), simeprevir (V36L), and grazoprevir (V36L, V170I). Furthermore, we sequenced part of HCV NS5B polymerase using Sanger-sequencing and detected a natural RAS for dasabuvir (C316N). This mutation could be important for treatment strategies in cases of previous therapy failure.
No MeSH data available.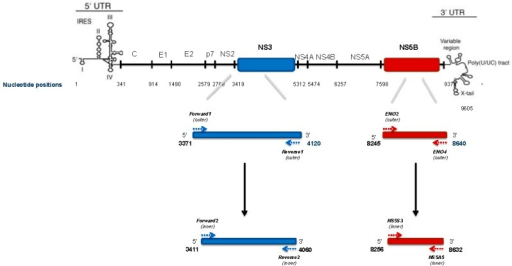 © Copyright Policy
License
getmorefigures.php?uid=PMC5037695&req=5
Mentions: Viral RNA was extracted from 140 µL serum using the QIAmp viral RNA extraction kit (Qiagen, Hilden, Germany) in accordance with the manufacturer's protocol. RNA was reverse-transcribed using the High-Capacity cDNA Reverse Transcription Kits protocol (Applied Biosystems, Foster City, CA, USA). The 2X reverse transcription Master Mix (2 µL 10× RT Buffer, 0.8 µL 25× dNTP Mix (100 mM), 2 µL 10× RT Random Primers, 1 µL MultiScribe™ Reverse Transcriptase, 1 µL RNase Inhibitor and RNase-free water) was added at 10 µL RNA to make up a final volume of 20 µL. Synthesized cDNA was amplified by PCR technique using in-house-developed primers specific for NS3 genomic region (650 bp), covering all NS3/4A positions involved in drug resistance using GoTaq® DNA Polymerase (Promega, Madison, WI, USA). The nested PCR amplification for both rounds was performed under the following conditions: 1.25 units of GoTaq® DNA Polymerase, 50 mM KCl, 30 mM Tris-HCl, 1.5 mM Mg2+, 200 µM of each dNTP, 0.2 µM sense primer, 0.2 µM antisense primer. Six microliters of cDNA was used for the first round of PCR. NS3 primers were the following: Forward1 (outer) 5′-GGAGGGAGATACATCTGG-3′; Reverse1 (outer): 5′-GTTCAGGACAAGCACCTTAT-3′. Thermocycling conditions consisted in a denaturation step at 95 °C for 5 min, followed by 35 cycle at 95 °C for 30 s; 62 °C for 30 s; 72 °C for 1 min; a final elongation cycle of 7 min at 72 °C and finally a hold at 4 °C. Five microliters of the first round of PCR products was used for nested-PCR, using the same thermocycling conditions. NS3 nested primers were the following: Forward2 (inner) 5′-ACTCCTCGCGCCTATTACG-3′; Reverse2 (inner) 5′-TTAGTGCTCTTGCCGCTACC-3′ (Figure 2). In order to obtain enough material for sequencing, the second PCR was performed in duplicate. These PCR products were quantified by semi-fluidic electrophoresis (Agilent® Bioanalyzer®, Santa Clara, CA, USA), using Agilent High Sensitivity DNA Kit and diluted to in order to obtain 100 ng of HCV cDNA in a final volume of 40 µL.