Matrine Exerts a Strong Anti-Arthritic Effect on Type II Collagen-Induced Arthritis in Rats by Inhibiting Inflammatory Responses
ABSTRACT
---
To investigate anti-arthritic effects of matrine isolated from the roots of S. flavescens on type II collagen-induced arthritis (CIA) in rats and to explore its related potential mechanisms, CIA rats were established and administered with matrine (20, 40 or 80 mg/kg/days, for 30 days). Subsequently, blood was collected to determine serum levels of TNF-α, IL-1β, IL-6, IL-8, IL-17A, IL-10, MMP-2, MMP-3 and MMP-9, and hind paws and knee joints were collected for histopathological examination. Furthermore, indices of the thymus and spleen were determined, and synovial tissues were collected to determine the protein expressions of p-IκB, IκB, Cox-2 and iNOS. Our results indicated that matrine significantly suppressed inflammatory reactions and synovial tissue destruction. Matrine inhibited paw swelling, arthritis indices and weight loss in CIA rats. Additionally, matrine decreased the levels of TNF-α, IL-1β, IL-6, IL-8, IL-17A, MMP-2, MMP-3 and MMP-9. Matrine also down-regulated expressions of p-IκB, Cox-2, and iNOS but up-regulated IκB in synovial tissues in CIA rats. The results suggested matrine possesses an anti-arthritic effect in CIA rats via inhibiting the release of pro-inflammatory cytokines and proteins that promote the NF-κB pathway.
No MeSH data available.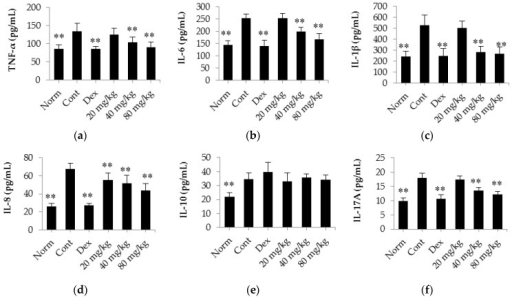 © Copyright Policy
License
getmorefigures.php?uid=PMC5037690&req=5
Mentions: The results shown in Figure 6 indicate that there was a clear increase in the levels of TNF-α, IL-6, IL-1β, IL-8, IL-17A and IL-10 in CIA rats (p < 0.01) compared with normal rats. However, the release of these regulatory cytokine (except for IL-10) was significantly decreased in rats treated with dexamethasone (0.05 mg/kg/days) compared with control CIA rats. Interestingly, daily treatment of CIA rats with matrine at a dose of 40 or 80 mg/kg significantly decreased the release of TNF-α, IL-6, IL-1β, IL-8, and IL-17A into the serum (p < 0.01) compared with the release observed in the control CIA rats. However, after treating the rats with matrine, no obvious effect on the release of IL-10 into the serum of CIA rats was observed (p > 0.05).