The Profiling and Identification of the Absorbed Constituents and Metabolites of Guizhi Decoction in Rat Plasma and Urine by Rapid Resolution Liquid Chromatography Combined with Quadrupole-Time-of-Flight Mass Spectrometry
ABSTRACT
---
Guizhi decoction (GZD), a well-known traditional Chinese medicine (TCM) prescription consisting of Ramulus Cinnamomi, Radix Paeoniae Alba, Radix Glycyrrhizae, Fructus Jujubae and Rhizoma Zingiberis Recens, is usually used for the treatment of common colds, influenza, and other pyretic conditions in the clinic. However, the absorbed ingredients and metabolic compounds of GZD have not been reported. In this paper, a method incorporating rapid resolution liquid chromatography (RRLC) with quadrupole-time-of-flight mass spectrometry (Q-TOF-MS) was used to identify ingredients after oral administration of GZD. Identification of the primary components in GZD, drug-containing serum and urine samples was carried out in order to investigate the assimilation and metabolites of the decoction in vivo. By comparing the total ion chromatograms (TICs) of GZD, a total of 71 constituents were detected or characterized. By comparing TICs of blank and dosed rat plasma, a total of 15 constituents were detected and identified as prototypes according to their retention time (tR) and MS, MS/MS data. Based on this, neutral loss scans of 80 and 176 Da in samples of rat plasma and urine helped us to identify most of the metabolites. Results showed that the predominant metabolic pathways of (epi) catechin and gallic acid were sulfation, methylation, glucuronidation and dehydroxylation; the major metabolic pathways of flavone were hydrolysis, sulfation and glucuronidation. Furthermore, degradation, oxidation and ring fission were found to often occur in the metabolism process of GZD in vivo.
No MeSH data available.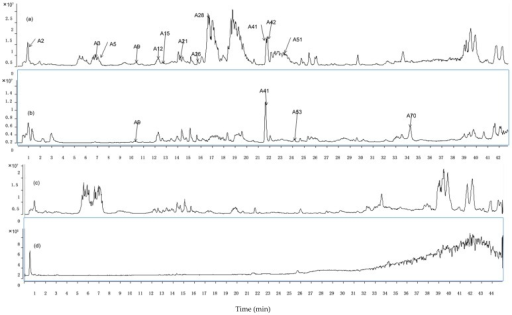 © Copyright Policy
License
getmorefigures.php?uid=PMC5037689&req=5
Mentions: For the sake of analyzing the prototype components in plasma, we compared the TICs of dosed and blank rat blood. Compared with the normal control group, a total of 15 constituents were identified from rat plasma at dosed group according to their TOF-MS data (m/z, MS/MS, tR et al.). Among these 15 compounds, there are five compounds originating from Radix Paeoniae Alba (paeoniflorin, albiflorin, epicatechin, catechin and gallic acid), eight from Radix Glycyrrhizae (liquiritin, isoliquiritin, liquritigenin, isoliqurigenin, glycyrrhizic acid, naringenin-5-O-glucoside, naringenin-7-O-glucoside and formononetin), one from Ramulus Cinnamomi (cinnamic acid) and one from Rhizoma Zingiberis Recens (6-gingerol). The TICs of those 15 compounds and blank rat plasma are shown in Figure 2. In addition, prototype compounds of GZD including its related TOF-MS data can be found in Table 1.