Highly Accurate Prediction of Protein-Protein Interactions via Incorporating Evolutionary Information and Physicochemical Characteristics
ABSTRACT
---
Protein-protein interactions (PPIs) occur at almost all levels of cell functions and play crucial roles in various cellular processes. Thus, identification of PPIs is critical for deciphering the molecular mechanisms and further providing insight into biological processes. Although a variety of high-throughput experimental techniques have been developed to identify PPIs, existing PPI pairs by experimental approaches only cover a small fraction of the whole PPI networks, and further, those approaches hold inherent disadvantages, such as being time-consuming, expensive, and having high false positive rate. Therefore, it is urgent and imperative to develop automatic in silico approaches to predict PPIs efficiently and accurately. In this article, we propose a novel mixture of physicochemical and evolutionary-based feature extraction method for predicting PPIs using our newly developed discriminative vector machine (DVM) classifier. The improvements of the proposed method mainly consist in introducing an effective feature extraction method that can capture discriminative features from the evolutionary-based information and physicochemical characteristics, and then a powerful and robust DVM classifier is employed. To the best of our knowledge, it is the first time that DVM model is applied to the field of bioinformatics. When applying the proposed method to the Yeast and Helicobacter pylori (H. pylori) datasets, we obtain excellent prediction accuracies of 94.35% and 90.61%, respectively. The computational results indicate that our method is effective and robust for predicting PPIs, and can be taken as a useful supplementary tool to the traditional experimental methods for future proteomics research.
No MeSH data available.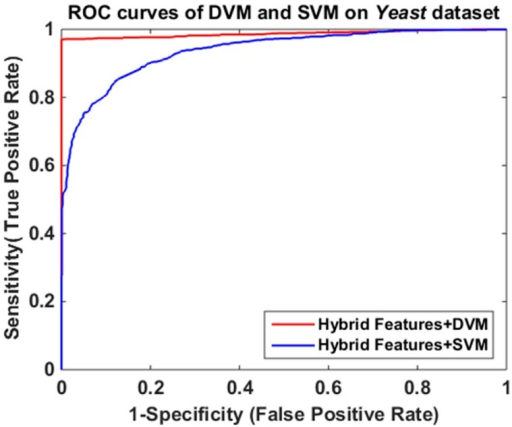 © Copyright Policy
License
getmorefigures.php?uid=PMC5037676&req=5
Mentions: The final prediction results of the two methods are illustrated in Table 3 and the corresponding ROCs (receiver operating characteristic curve) are shown in Figure 1. From Table 3, the average prediction accuracy, sensitivity, precision and MCC of the SVM method attained 85.77%, 85.38%, 86.46%, and 75.65%, respectively. Meanwhile, the corresponding values based on DVM achieved 94.35%, 92.97%, 96.52%, and 89.07%, which indicate that our method is significantly better than SVM for predicting PPIs. Furthermore, as shown in Figure 1, the ROC of the DVM-based prediction model is superior to that of the SVM-based classifier. It obviously suggests that the proposed method is more effective and robust. There are two possible explanations to explain the results. (1) Based on k nearest neighbors (kNNs), the robust M-estimator and manifold regularization, DVM reduces the effect of outliers and overcomes the shortcoming of the kernel function being required to satisfy the condition of Mercer; (2) Although there are three parameters (β, γ, and θ) in DVM model, those parameters slightly affect the performance of DVM if they are adjusted in appropriate ranges. Therefore, the DVM-based model is more suitable for PPIs prediction than the SVM-based method.