Oridonin, a Promising ent -Kaurane Diterpenoid Lead Compound
ABSTRACT
---
Oridonin belongs to ent-kaurane tetracyclic diterpenoid and was first isolated from Isodon species. It exhibits inhibitory activities against a variety of tumor cells, and pharmacological study shows that oridonin could inhibit cell proliferation, DNA, RNA and protein synthesis of cancer cells, induce apoptosis and exhibit an antimutagenic effect. In addition, the large amount of the commercially-available supply is also very important for the natural lead oridonin. Moreover, the good stability, suitable molecular weight and drug-like property guarantee its further generation of a natural-like compound library. Oridonin has become the hot molecule in recent years, and from the year 2010, more than 200 publications can be found. In this review, we summarize the synthetic medicinal chemistry work of oridonin from the first publication 40 years ago and share our research experience of oridonin for about 10 years, which may provide useful information to those who are interested in this research field.
No MeSH data available.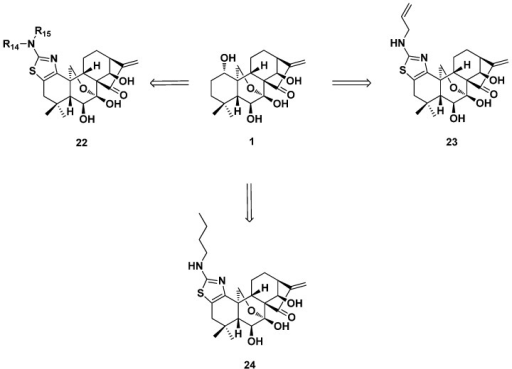 © Copyright Policy
License
getmorefigures.php?uid=PMC5037675&req=5
Mentions: In the same year, Zhou's group synthesized a series of oridonin derivatives (22) with thiazole fused in the A-ring through a protecting group-free synthetic strategy (Figure 11) [54]. Most of the derivatives exhibited potent antiproliferative effects against selected pancreatic, breast and prostate cancer cells with low (sub)micromolar IC50 values and enhanced aqueous solubility. These molecules not only showed enhanced growth inhibitory effects against MCF-7 cells, but also on the other oridonin insensitive cancer cells, including the highly invasive triple-negative MDA-MB-231 cell line with low IC50 values. Particularly, the most potent derivative (23) with an N-allyl substituted thiazole moiety exhibited IC50 values of 0.2 μM against both MDA-MB-231 and MCF-7 cells, which are approximately 147-fold and 33-fold more potent than oridonin, respectively. It was also found to induce the apoptosis of MCF-7/ADR and MDA-MB-231 cells in a concentration-dependent manner through similar multiple pathways as oridonin. The above derivative significantly suppressed MDA-MB-231 xenograft tumor growth at 5 mg/kg and was more efficacious than oridonin. Furthermore, one analogue (24, R14 = H, R15 = n-butane), which significantly inhibited HCC1806 and HCC1937 triple-negative breast cancer cells' proliferation, was selected for an intensive mechanism study. The results showed that it could induce apoptosis and cell cycle arrest at the G2/M phase of HCC1806 and HCC1937 cells. The inhibitory potency would be caused by the expression of death receptor 5 (DR5), p21 and pERK and downregulations of cyclin D1, XIAP, FLIPL, pSTAT3 and pAKT. Besides, the suppression of HCC1806 xenograft tumor growth at 5 mg/kg in nude mice without the loss of body weight also guaranteed its further development as a drug candidate [55].