Oridonin, a Promising ent -Kaurane Diterpenoid Lead Compound
ABSTRACT
---
Oridonin belongs to ent-kaurane tetracyclic diterpenoid and was first isolated from Isodon species. It exhibits inhibitory activities against a variety of tumor cells, and pharmacological study shows that oridonin could inhibit cell proliferation, DNA, RNA and protein synthesis of cancer cells, induce apoptosis and exhibit an antimutagenic effect. In addition, the large amount of the commercially-available supply is also very important for the natural lead oridonin. Moreover, the good stability, suitable molecular weight and drug-like property guarantee its further generation of a natural-like compound library. Oridonin has become the hot molecule in recent years, and from the year 2010, more than 200 publications can be found. In this review, we summarize the synthetic medicinal chemistry work of oridonin from the first publication 40 years ago and share our research experience of oridonin for about 10 years, which may provide useful information to those who are interested in this research field.
No MeSH data available.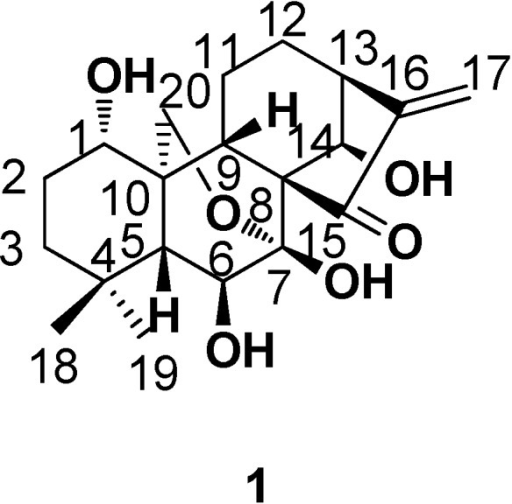 © Copyright Policy
License
getmorefigures.php?uid=PMC5037675&req=5
Mentions: Oridonin (1, Figure 1) is an ent-kaurane diterpenoid isolated from Isodon of the Labiatae family, the structure and absolute configuration of which were first confirmed in the year 1970 [1]. Since then, hundreds of research articles, mainly in the antitumor field, have been published. Only from the year 2010, more than 200 papers can be found using Web of Science (searching oridonin as the topic), and obviously, it has become a molecule in focus from a natural source for the treatment of cancer. Oridonin is also a good lead in the field of medicinal chemistry: (a) it shows antitumor activities against many tumor-related cells [2,3] (for example, IC50 values were 21.48 μM against human esophageal squamous EC9706 cells [4], 5 μM against leukemia-derived Jurkat cells [5], 2.5 μM against human umbilical vascular endothelial cells [6], 15.6 μM against gastric cancer SGC-7901 cells [7], 19.32 μM against human pancreatic cancer BxPC-3 cells [8], 37.90 μM against human liver carcinoma HepG2 cells [9], 3.1 and 6.1 μM against uveal melanoma OCM-1 and MUM2B cells for a treatment of 24 h [10], 54.2 μM against human lung cancer A549 cells [11], 41.8 μM against leukemia HPB cells [12], 63.7 μM against human fibrosarcoma HT1080 cells [13], 15.18 μM against human epidermoid carcinoma A431 cells [14], 37.1 μM against human laryngeal cancer HEp-2 cells [15,16], 7.4 μM against melanoma K1735M2 cells [17], 3.88 μM against human colon tumor SW620 cells [18], 3.74 μM against bone marrow tumor K562 cells [18], 5.12 μM against breast tumor MCF7 cells [18], and so on) and relatively low toxicity (18.26 μM against human liver L-02 cells and 7.48 μM against human liver carcinoma Bel-7402 cells for a treatment of 72 h [19]); (b) the well-studied multitargeting properties of the antitumor activity [20,21] through specific chemical modifications enable the development of natural product (NP)-based novel drugs; (c) oridonin possessed good stability in stock solutions (1 mg/mL of oridonin and the internal standard were over 99% of the nominal concentrations compared with freshly prepared solutions after storage at −20 °C for 30 days), rat plasma (the starting concentrations were 12.3, 246 and 984 ng/mL; the measured concentrations were 12.0, 248 and 973 ng/mL after 24 h at room temperature and 12.1, 252 and 976 ng/mL at −20 °C for 30 days, respectively) and even after three freeze–thaw cycles (freezing at −20 °C and thawing at room temperature on three consecutive days) with concentrations of 11.8, 253 and 978 ng/mL [22,23]; (d) oridonin meets the criteria of Lipinski's rule of five and is a lead-like, fragment-like and drug-like molecule [24,25]; the molecular weight (Mw) of oridonin is 362.2, which makes it suitable for further optimization, because the Mw value always increases during the process from lead to drug-like candidate [26]; (e) there are many functional groups (double bond, carbonyl group and hydroxyl groups in different chemical environments), which provide good synthetic accessibility to efficiently generate libraries of derivatives; and (f) last, but not least, for all natural products, it is commercially available for large-scale compound supply. Despite these promising profiles as an anticancer lead, there are also some shortcomings to be overcome during structural modification processes, such as relatively low aqueous solubility and bioavailability, moderate potency and undefined mechanisms of action. On the basis of the above, oridonin was widely used as a lead compound, especially to develop novel antitumor natural product-derived agents, by many medicinal chemistry researchers, including our research group [17,18,19,20,21,22,23,24,25,26,27,28,29,30,31,32,33,34,35,36,37,38,39,40,41]. With its molecular mechanisms being gradually clarified, more scientists will join this field to discover promising anti-neoplastic drug from oridonin, as well as tetracyclic diterpenoids. Although there are several reviews concerning the biological activities [20,21,42,43,44] and medicinal chemistry [45] (structural modification and biological evaluation) of oridonin, herein, we would like to review the synthetic work of the lead oridonin from the first publication 40 years ago and to share our research experience of oridonin for about 10 years, which not only provides the best convenience to whomever wants to join this research field, but also a good example for lead optimization research from natural sources.