Antiviral Activity of a Novel Compound CW-33 against Japanese Encephalitis Virus through Inhibiting Intracellular Calcium Overload
ABSTRACT
---
--: Japanese encephalitis virus (JEV), a mosquito-borne flavivirus, has five genotypes (I, II, III, IV, and V). JEV genotype I circulates widely in some Asian countries. However, current JEV vaccines based on genotype III strains show low neutralizing capacities against genotype I variants. In addition, JE has no specific treatment, except a few supportive treatments. Compound CW-33, an intermediate synthesized derivative of furoquinolines, was investigated for its antiviral activities against JEV in this study. CW-33 exhibited the less cytotoxicity to Syrian baby hamster kidney (BHK-21) and human medulloblastoma (TE761) cells. CW-33 dose-dependently reduced the cytopathic effect and apoptosis of JEV-infected cells. Supernatant virus yield assay pinpointed CW-33 as having potential anti-JEV activity with IC50 values ranging from 12.7 to 38.5 μM. Timeofaddition assay with CW-33 indicated that simultaneous and post-treatment had no plaque reduction activity, but continuous and simultaneous treatments proved to have highly effective antiviral activity, with IC50 values of 32.7 and 48.5 μM, respectively. CW-33 significantly moderated JEV-triggered Ca2+ overload, which correlated with the recovery of mitochondria membrane potential as well as the activation of Akt/mTOR and Jak/STAT1 signals in treated infected cells. Phosphopeptide profiling by LC-MS/MS revealed that CW-33 upregulated proteins from the enzyme modulator category, such as protein phosphatase inhibitor 2 (I-2), Rho GTPase-activating protein 35, ARF GTPase-activating protein GIT2, and putative 3-phosphoinositide-dependent protein kinase 2. These enzyme modulators identified were associated with the activation of Akt/mTOR and Jak/STAT1 signals. Meanwhile, I-2 treatment substantially inhibited the apoptosis of JEV-infected cells. The results demonstrated that CW-33 exhibited a significant potential in the development of anti-JEV agents.
No MeSH data available.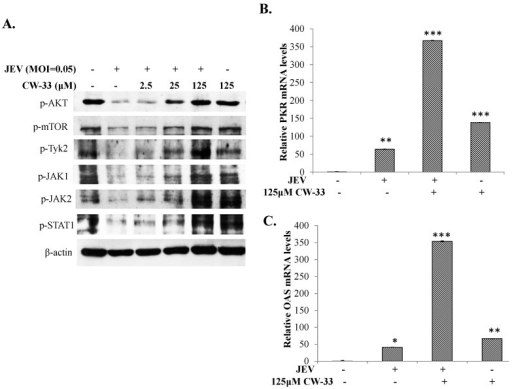 © Copyright Policy
License
getmorefigures.php?uid=PMC5037666&req=5
Mentions: The serine/threonine kinase Akt, an inhibitor of apoptosis, reduces the Ca2+ release from the Endoplasmic Reticulum to the mitochondria of apoptotic cells [20], thus the activity of Akt/mTOR in JEV-infected cells in the presence or absence of CW-33 was further examined using Western Blotting (Figure 7A). Interestingly, CW-33 raised the phosphorylation of Akt and mTOR suppressed by JEV in concentration-dependent manners (Figure 7A). In addition, the other survival pathways, ERK and Jak/STAT, were analyzed. CW-33 dose-dependently induced the phosphorylation of Jaks (Tyk2, Jak1, and Jak2) and STAT1 in JEV-infected cells (Figure 7A). The effect of CW-33 on the expression of STAT1-mediated genes in infected cells was subsequently assessed using real-time RT-PCR (Figure 7B,C). After normalization to the GAPDH, CW-33 alone induced upregulation of PKR and 2′,5′-OAS mRNA in mock cells by over 50-fold compared to mock control cells, whereas JEV infection also triggered the expression of both genes to be lower than that in cells treated with CW-33 alone. Importantly, CW-33 treatment caused a 300-fold higher increase of PKR and 2′-5′-OAS mRNA in JEV-infected cells. Patterns of PKR and 2′-5′-OAS mRNA levels in response to CW-33 and JEV infection correlated with activation of JAK/STAT signaling as the data of Western blotting (Figure 7A). Results revealed CW-33 reducing JEV-induced intracellular Ca2+, and activating Akt/mTOR, and Jak/STAT signaling pathways in infected cells.