Antiviral Activity of a Novel Compound CW-33 against Japanese Encephalitis Virus through Inhibiting Intracellular Calcium Overload
ABSTRACT
---
--: Japanese encephalitis virus (JEV), a mosquito-borne flavivirus, has five genotypes (I, II, III, IV, and V). JEV genotype I circulates widely in some Asian countries. However, current JEV vaccines based on genotype III strains show low neutralizing capacities against genotype I variants. In addition, JE has no specific treatment, except a few supportive treatments. Compound CW-33, an intermediate synthesized derivative of furoquinolines, was investigated for its antiviral activities against JEV in this study. CW-33 exhibited the less cytotoxicity to Syrian baby hamster kidney (BHK-21) and human medulloblastoma (TE761) cells. CW-33 dose-dependently reduced the cytopathic effect and apoptosis of JEV-infected cells. Supernatant virus yield assay pinpointed CW-33 as having potential anti-JEV activity with IC50 values ranging from 12.7 to 38.5 μM. Timeofaddition assay with CW-33 indicated that simultaneous and post-treatment had no plaque reduction activity, but continuous and simultaneous treatments proved to have highly effective antiviral activity, with IC50 values of 32.7 and 48.5 μM, respectively. CW-33 significantly moderated JEV-triggered Ca2+ overload, which correlated with the recovery of mitochondria membrane potential as well as the activation of Akt/mTOR and Jak/STAT1 signals in treated infected cells. Phosphopeptide profiling by LC-MS/MS revealed that CW-33 upregulated proteins from the enzyme modulator category, such as protein phosphatase inhibitor 2 (I-2), Rho GTPase-activating protein 35, ARF GTPase-activating protein GIT2, and putative 3-phosphoinositide-dependent protein kinase 2. These enzyme modulators identified were associated with the activation of Akt/mTOR and Jak/STAT1 signals. Meanwhile, I-2 treatment substantially inhibited the apoptosis of JEV-infected cells. The results demonstrated that CW-33 exhibited a significant potential in the development of anti-JEV agents.
No MeSH data available.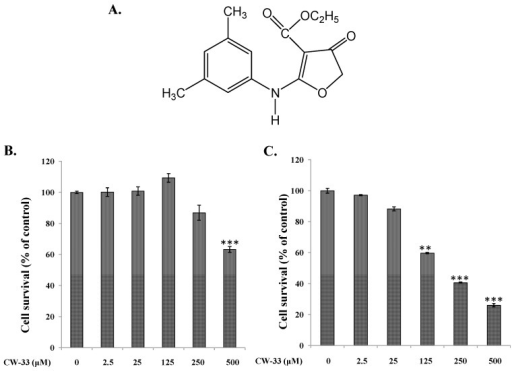 © Copyright Policy
License
getmorefigures.php?uid=PMC5037666&req=5
Mentions: Furoquinoline alkaloids show anti-inflammatory [10,11], antifungal [12], antimicrobial [13], and anticancer activity [14]. A novel compound CW-33 (ethyl 2-(3′,5′-dimethylanilino)-4-oxo-4,5-dihydrofuran-3-carboxylate), a synthetic derivative of furoquinoline alkaloid, has been demonstrated to inhibit the replication of enterovirus A71 in vitro via the inhibition of viral 2A protease activity and the recovery of IFNAR1 protein levels [15]. Combined treatment with CW-33 and IFN-β exhibits a synergistic antiviral activity against enterovirus A71. In addition, the furanonaphthoquinone derivative 2-methylnaphtho [2,3-b]furan-4,9-dione (FNQ3) shows antiviral activity against JEV through the inhibition of viral RNA and protein synthesis [16]. Thus, this study intends to investigate the antiviral activity of a novel compound, CW-33 (Figure 1A), against JEV in vitro. CW-33 reduced the JEV-induced cytopathic effect and apoptosis, and also inhibited virus yield and plaque formation in a concentration-dependent manner. Importantly, CW-33 treatment reduced intracellular Ca2+ levels, raised mitochondrial membrane potential, and upregulated signal pathways of AKT/mTOR and JAK/STAT in JEV-infected cells. In addition, CW-33 activated the expression of IFN-stimulated genes (ISGs). Results demonstrated CW-33 exhibiting significant potential against JEV.