CTHRSSVVC Peptide as a Possible Early Molecular Imaging Target for Atherosclerosis
ABSTRACT
---
The purpose of our work was to select phages displaying peptides capable of binding to vascular markers present in human atheroma, and validate their capacity to target the vascular markers in vitro and in low-density lipoprotein receptor knockout (LDLr−/−) mouse model of atherosclerosis. By peptide fingerprinting on human atherosclerotic tissues, we selected and isolated four different peptides sequences, which bind to atherosclerotic lesions and share significant similarity to known human proteins with prominent roles in atherosclerosis. The CTHRSSVVC-phage peptide displayed the strongest reactivity with human carotid atherosclerotic lesions (p < 0.05), when compared to tissues from normal carotid arteries. This peptide sequence shares similarity to a sequence present in the fifth scavenger receptor cysteine-rich (SRCR) domain of CD163, which appeared to bind to CD163, and subsequently, was internalized by macrophages. Moreover, the CTHRSSVVC-phage targets atherosclerotic lesions of a low-density lipoprotein receptor knockout (LDLr−/−) mouse model of atherosclerosis in vivo to High-Fat diet group versus Control group. Tetraazacyclododecane-1,4,7,10-tetraacetic acid-CTHRSSVVC peptide (DOTA-CTHRSSVVC) was synthesized and labeled with 111InCl3 in >95% yield as determined by high performance liquid chromatography (HPLC), to validate the binding of the peptide in atherosclerotic plaque specimens. The results supported our hypothesis that CTHRSSVVC peptide has a remarkable sequence for the development of theranostics approaches in the treatment of atherosclerosis and other diseases.
No MeSH data available.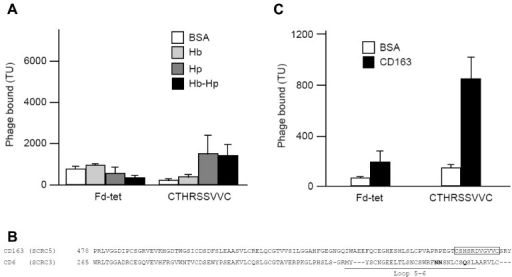 © Copyright Policy
License
getmorefigures.php?uid=PMC5037663&req=5
Mentions: The selected peptide CTHRSSVVC shares 78% homology and 67% identity with human CD163 (Table 2). CD163, also known as scavenger receptor cysteine-rich type 1 protein or M130, is preferentially expressed by monocytes and macrophages, and the best characterized function is the clearance of hemoglobin in the form of haptoglobin-hemoglobin complex [17,18,19]. The role of CTHRSSVVC peptide in atherosclerosis is possibly related with macrophage activation and the production of anti-inflammatory cytokines [19]. It is also a potential serum marker for atherosclerosis disease progression [16,20]. However, the peptides identified by phage display are often biologically active and interact with relevant binding sites [7,8,12,14]. Therefore, we decided to evaluate whether CTHRSSVVC-phage could bind to the native ligand of CD163. In this study, hemoglobin (Hb), haptoglobin (Hp) and hemoglobin-haptoglobin complex (HbHp) were immobilized on microtiter plates, and incubated with CTHRSSVVC or Fd-tet insertless negative control phages. As observed in Figure 4A, no significant binding of CTHRSSVVC-phage to BSA or Hb was detected. We therefore hypothesized that CTHRSSVVC might mimic a domain that participates in receptor homodimerization; indeed previous studies have suggested that CD163 dimerization is important for signaling and activation [21] (Figure 5). To validate this hypothesis, CD163 was immobilized on microtiter plates and incubated with CTHRSSVVC or Fd-tet negative control phages. Our experimental results validated our hypothesis as they unequivocally confirmed that the phage displaying the CTHRSSVVC peptide indeed binds to immobilized CD163 as depicted in Figure 4C. It was also interesting to observe that CTHRSSVVC shares similarity to the "fifth and sixth loop" regions of the SRCR domain, a highly divergent region proposed to be involved in ligand binding [22] (Figure 4B). These data corroborate with the results, which showed that the Hb-Hp binding site is located in the third scavenger receptor cysteine-rich (SRCR) domain of CD163 [5,6], while CTHRSSVVC shares similarity to a sequence present in the fifth SRCR domain of CD163 (Figure 4B). Moreover, site-directed mutagenesis showed that the amino acid residues within the fifth and sixth loop region of the SRCR domain of another scavenger receptor (CD6) are essential for binding to its ligand (CD166) [23].