Anti-Inflammatory Mechanism of Neural Stem Cell Transplantation in Spinal Cord Injury
ABSTRACT
---
Neural stem cell (NSC) transplantation has been proposed to promote functional recovery after spinal cord injury. However, a detailed understanding of the mechanisms of how NSCs exert their therapeutic plasticity is lacking. We transplanted mouse NSCs into the injured spinal cord seven days after SCI, and the Basso Mouse Scale (BMS) score was performed to assess locomotor function. The anti-inflammatory effects of NSC transplantation was analyzed by immunofluorescence staining of neutrophil and macrophages and the detection of mRNA levels of tumor necrosis factor-α (TNF-α), interleukin-1β (IL-1β), interleukin-6 (IL-6) and interleukin-12 (IL-12). Furthermore, bone marrow-derived macrophages (BMDMs) were co-cultured with NSCs and followed by analyzing the mRNA levels of inducible nitric oxide synthase (iNOS), TNF-α, IL-1β, IL-6 and IL-10 with quantitative real-time PCR. The production of TNF-α and IL-1β by BMDMs was examined using the enzyme-linked immunosorbent assay (ELISA). Transplanted NSCs had significantly increased BMS scores (p < 0.05). Histological results showed that the grafted NSCs migrated from the injection site toward the injured area. NSCs transplantation significantly reduced the number of neutrophils and iNOS+/Mac-2+ cells at the epicenter of the injured area (p < 0.05). Meanwhile, mRNA levels of TNF-α, IL-1β, IL-6 and IL-12 in the NSCs transplantation group were significantly decreased compared to the control group. Furthermore, NSCs inhibited the iNOS expression of BMDMs and the release of inflammatory factors by macrophages in vitro (p < 0.05). These results suggest that NSC transplantation could modulate SCI-induced inflammatory responses and enhance neurological function after SCI via reducing M1 macrophage activation and infiltrating neutrophils. Thus, this study provides a new insight into the mechanisms responsible for the anti-inflammatory effect of NSC transplantation after SCI.
No MeSH data available.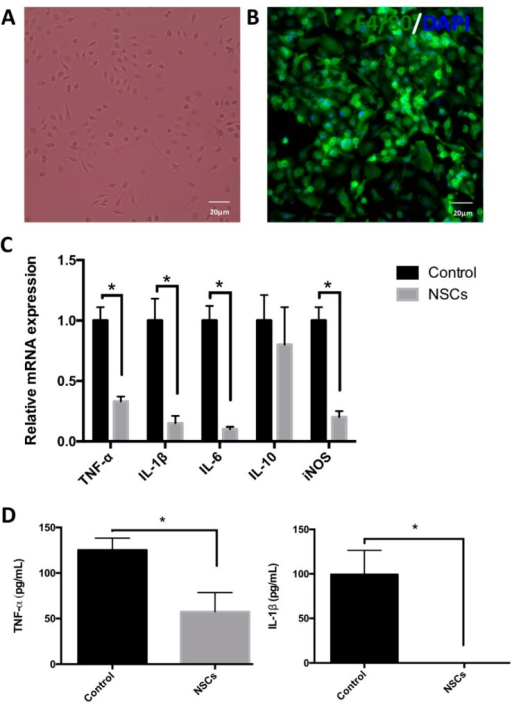 © Copyright Policy
License
getmorefigures.php?uid=PMC5037660&req=5
Mentions: As reported, macrophages, which accumulated at the injury site, are mainly derived from bone marrow. Therefore, to study the effects of NSCs on macrophages, we isolated and cultured mouse bone marrow-derived macrophages (BMDMs). Cells were cultured in media with granulocyte-macrophage colony-stimulating factor (GM-CSF) for seven days and identified by the expression of F4/80, a ubiquitous microglia/macrophage marker (Figure 7A,B). Next, we co-cultured BMDMs with NSCs for 12 h and then treated with interferon-γ (INF-γ) for 6 h. INF-γ is usually used to induce the activation of M1 macrophages. The mRNA levels of TNF-α, IL-1β, IL-6, IL-10 and inducible nitric oxide synthase (iNOS) were examined by quantitative real-time PCR. We found that NSCs significantly inhibited the expression of the target gene stimulated by interferon-γ (p < 0.05; Figure 7C). Finally, we detected the production of pro-inflammatory cytokines, such as tumor necrosis factor α (TNF-α) and IL-1β, by using the enzyme-linked immunosorbent assay (ELISA). The ELISA result revealed that the macrophages co-cultured with NSCs using the transwell system before interferon-γ stimulation, TNF-α and IL-1β secretion induced by interferon-γ were significantly reduced (p < 0.05, n = 6 wells per group; Figure 7D). Taken together, these results suggested that NSCs have an anti-inflammatory effect via inhibiting macrophage M1 activation and the secretion of inflammatory cytokines in vitro.