Micronutrient Antioxidants and Nonalcoholic Fatty Liver Disease
ABSTRACT
---
Nonalcoholic fatty liver disease (NAFLD) is one of the most important chronic liver diseases worldwide and has garnered increasing attention in recent decades. NAFLD is characterized by a wide range of liver changes, from simple steatosis to nonalcoholic steatohepatitis, cirrhosis, and hepatocellular carcinoma. The blurred pathogenesis of NAFLD is very complicated and involves lipid accumulation, insulin resistance, inflammation, and fibrogenesis. NAFLD is closely associated with complications such as obesity, diabetes, steatohepatitis, and liver fibrosis. During the progression of NAFLD, reactive oxygen species (ROS) are activated and induce oxidative stress. Recent attempts at establishing effective NAFLD therapy have identified potential micronutrient antioxidants that may reduce the accumulation of ROS and finally ameliorate the disease. In this review, we present the molecular mechanisms involved in the pathogenesis of NAFLD and introduce some dietary antioxidants that may be used to prevent or cure NAFLD, such as vitamin D, E, and astaxanthin.
No MeSH data available.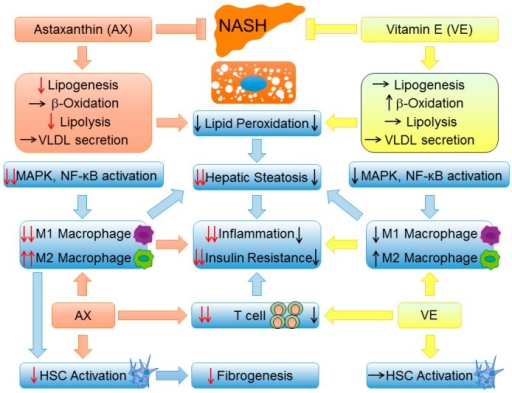 © Copyright Policy
License
getmorefigures.php?uid=PMC5037659&req=5
Mentions: In our previous study, we examined the preventative and therapeutic effects of astaxanthin, both in vivo and in vitro [133]. Astaxanthin was more effective than vitamin E in reducing liver lipid accumulation, ameliorating insulin resistance, and protecting against inflammation and fibrosis in mice with lipotoxicity-induced NASH. For instance, astaxanthin decreased the concentrations of TG, total cholesterol, nonesterified fatty acids, ALT, and AST, preventing the transformation of simple steatosis to NASH in obese mice. Additionally, astaxanthin inhibited activation of the JNK/p38 mitogen-activated protein kinases (MAPK) pathway and NF-κB, reduced the production of T cells and macrophages, and induced an M2-dominant shift in macrophages/KCs to reverse inflammation and glucose intolerance. Moreover, astaxanthin significantly attenuated hepatic fibrosis by down-regulating the expression of fibrogenic genes and decreasing the hydroxyproline content. On the other hand, compared with placebo, astaxanthin treatment reduced the severity of steatosis and tended to alleviate lobular inflammation, resulting in marked improvement of hepatic steatosis. Overall, considering the above-described benefits, astaxanthin may become a promising agent in the prevention or treatment of NAFLD/NASH (Figure 2).