Influenza A Virus Polymerase Recruits the RNA Helicase DDX19 to Promote the Nuclear Export of Viral mRNAs
ABSTRACT
---
Enhancing the knowledge of host factors that are required for efficient influenza A virus (IAV) replication is essential to address questions related to pathogenicity and to identify targets for antiviral drug development. Here we focused on the interplay between IAV and DExD-box RNA helicases (DDX), which play a key role in cellular RNA metabolism by remodeling RNA-RNA or RNA-protein complexes. We performed a targeted RNAi screen on 35 human DDX proteins to identify those involved in IAV life cycle. DDX19 was a major hit. In DDX19-depleted cells the accumulation of viral RNAs and proteins was delayed, and the production of infectious IAV particles was strongly reduced. We show that DDX19 associates with intronless, unspliced and spliced IAV mRNAs and promotes their nuclear export. In addition, we demonstrate an RNA-independent association between DDX19 and the viral polymerase, that is modulated by the ATPase activity of DDX19. Our results provide a model in which DDX19 is recruited to viral mRNAs in the nucleus of infected cells to enhance their nuclear export. Information gained from this virus-host interaction improves the understanding of both the IAV replication cycle and the cellular function of DDX19.
No MeSH data available.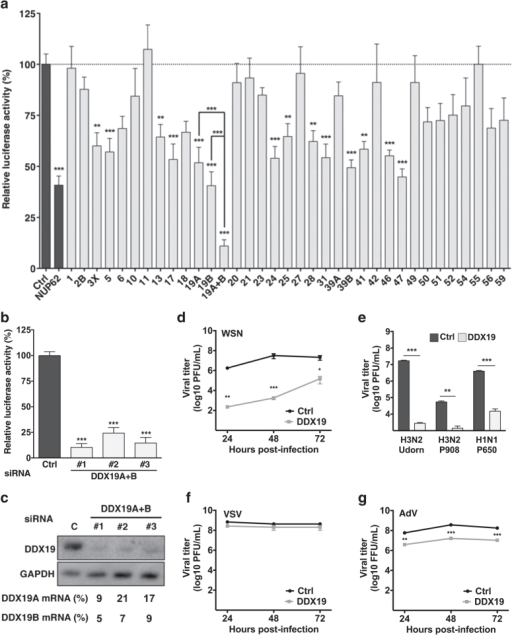 © Copyright Policy - open-access
License
getmorefigures.php?uid=PMC5037575&req=5
Mentions: A549 cells were transfected with each of the non-toxic siRNAs and subsequently infected at a low multiplicity of infection (m.o.i.) with a recombinant A/WSN/33 virus carrying a luciferase reporter gene (WSN-PB2-Nanoluc). Luciferase activity was measured in cell lysates prepared at 24 hours post-infection (hpi) to monitor the efficiency of viral replication. As shown in Fig. 1a, IAV replication was significantly impaired upon silencing of 14 DDX proteins: DDX3X, DDX5, DDX13, DDX17, DDX19A, DDX19B, DDX24, DDX25, DDX28, DDX31, DDX39B, DDX41, DDX46 and DDX47. Among the DDX proteins that had been previously found to positively regulate IAV replication, DDX3X, DDX5 and DDX1719 and DDX39B15 were recovered in our screen, but not DDX2B, possibly due to low knock-down efficiency (Figure S1b). DDX21 silencing, shown by others to negatively regulate IAV replication14, had no significant effect in our screen. Upon co-silencing of DDX19 A and B forms (96% identity at the protein level), the reduction of luciferase signal was significantly greater than upon silencing of DDX19A or DDX19B alone (a 90% reduction compared to 48% and 59%, respectively, Fig. 1a), indicating a synergistic effect of DDX19A and DDX19B depletion. We repeated the experiment with three individual siRNAs targeting conserved regions between DDX19A and DDX19B (Fig. 1b,c). A strong 76 to 90% reduction of the luciferase signal was observed with all three individual siRNAs (Fig. 1b), thus ruling out any off-target effect. In the experiments described below, the combination of DDX19A and DDX19B siRNAs (thereafter named DDX19 siRNAs) was used.