Total and Free Sugar Content of Canadian Prepackaged Foods and Beverages
ABSTRACT
---
A number of recommendations for policy and program interventions to limit excess free sugar consumption have emerged, however there are a lack of data describing the amounts and types of sugar in foods. This study presents an assessment of sugar in Canadian prepackaged foods including: (a) the first systematic calculation of free sugar contents; (b) a comprehensive assessment of total sugar and free sugar levels; and (c) sweetener and free sugar ingredient use, using the University of Toronto's Food Label Information Program (FLIP) database 2013 (n = 15,342). Food groups with the highest proportion of foods containing free sugar ingredients also had the highest median total sugar and free sugar contents (per 100 g/mL): desserts (94%, 15 g, and 12 g), sugars and sweets (91%, 50 g, and 50 g), and bakery products (83%, 16 g, and 14 g, proportion with free sugar ingredients, median total sugar and free sugar content in Canadian foods, respectively). Free sugar accounted for 64% of total sugar content. Eight of 17 food groups had ≥75% of the total sugar derived from free sugar. Free sugar contributed 20% of calories overall in prepackaged foods and beverages, with the highest at 70% in beverages. These data can be used to inform interventions aimed at limiting free sugar consumption.
No MeSH data available.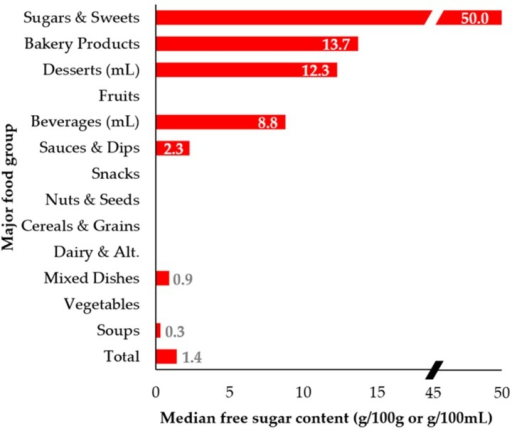 © Copyright Policy
License
getmorefigures.php?uid=PMC5037566&req=5
Mentions: Overall, 63.5% of prepackaged foods contained a FSI, 1.9% contained a sweetener, another 1.8% contained both a FSI and a sweetener, and the remaining 32.9% contained neither (Figure 1). There were 152 unique FSI found in this representative sample of Canadian prepackaged foods, not including variations in spelling, indicators of quality, purity, or origin (e.g., organic maple syrup, 100% pure agave, and Canadian honey) or specific flavours of fruit juice (e.g., apple juice, and grape juice concentrate) (Table 2). The most common types of FSI found in Canadian food and beverage products were sugar (dried or granulated) identified in 49.3% of products, glucose in 19.3%, and corn syrup in 10.7% (Table 2). Major food categories with the highest proportion of products containing FSI were desserts (93.6%), sugars and sweets (91.4%), and bakery products (83.1%) (Figure 1). These were also the most total sugar and free sugar dense food groups (Figure 2).